Elin Lakra1>
Elin Lakra
Assistant Programme Executive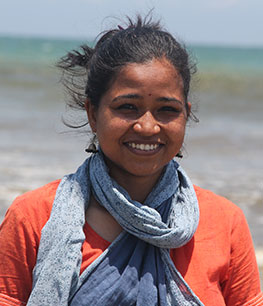 Elin completed her post-graduation in Social Work – winning the best field intervention for people's struggle award at her Centre for Community Organization and Development Practice at Tata Institute of Social Sciences. She believes in positive and democratic social change through community participation. Her previous work experience with prisoners and urban settlers in Siliguri helped in developing her consciousness to contribute towards a more equal and just society.
She joined SRUTI in 2016, and has been engaged with the fellowship program and views this as an opportunity to expand her understanding and engage with various socio-political issues. As an adivasi, she often finds herself focussing on the Adivasi question with an aim to constructively critique theories of development in the sphere.
She has consciously engaged on issues related to displacement, forest and land rights, environment conservation, education, migration, local governance and improving conditions of women in society. She has also engaged in partaking researches and producing reports on the Review of the Fourteenth Finance Commission, Grants to Gram Panchayat and Gram Panchayat Plans and पलामू व्याघ्र परियोजना और वाइल्ड लाइफ कॉरीडोर का सच – व्याघ्र संरक्षण प्लान के तहत (Jharkhand Indigenous People's Forum, 2017).
Elin loves to sing and cook, and takes every opportunity to educate others about the variety of agricultural and traditional practices that she knows of.