Satyam Srivastava1>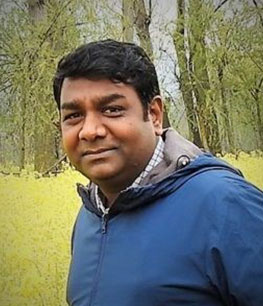 Satyam is the Co-Director of SRUTI and has over 16 years of experience in dealing with issues related to natural resources (land, forest and water), education, governance and other related challenges. He has also worked on documentation of various grassroot initiatives and peoples' movements on issues of rights over natural resources and socio-economic concerns such as governance, Panchayati Raj Institutions, food security and caste. During Feb 2020-July 2021, he was appointed as a member of two expert committees formed by the Ministry of Tribal Affairs on the CFR management and habitat rights for pastoral communities.
He had a variety of experiences before joining this sector of work. He started studying Electrical Engineering but later decided to academically take up his passion in philosophy and literature. His love for singing and public speaking made him join All India Radio at Chhatarpur in Madhya Pradesh – hosting a daily program, Yuvavani.
As a student, he wrote and directed plays with progressive groups and regularly performed street and stage theatre. He was an active member of the student movement during his post-graduation at Mahatma Gandhi Antarrashtriya Hindi Vishwavidyalaya, Wardha, and developed his world-views on issues of social and political importance at an early age.
Satyam enjoys writing on the issues related to his domain and contemporary socio-political issues. He has published several articles for the Caravan, The Wire, Newslaundry, NewsClick, Mongabay and Down to Earth. His weekly column in hindi – Baat Bolegi on Junputh explores a myriad of social issues and weaves words to explore an altogether new genre of writing.
He loves cooking and being a lovely host to friends and family. His love for Jagjit Singh is eternal and well-known. His cat, whom he loves very much, however, does not approve entirely of ghazals.