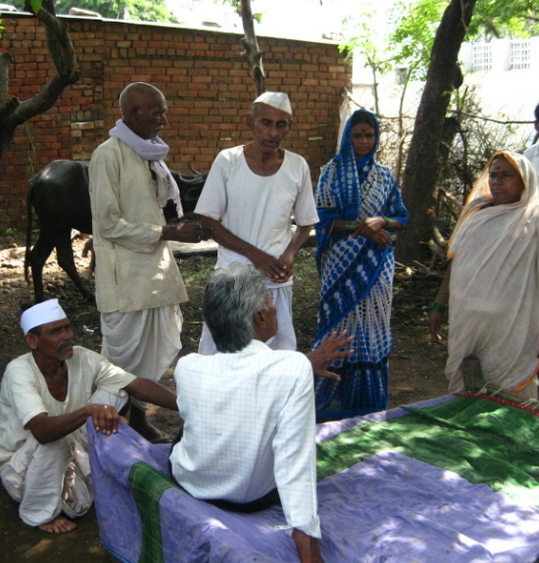 Organisation
"Supporting Communities for Democracy & Peace"
SRUTI – Society for Rural Urban and Tribal Initiative, established in 1983, is a not-for-profit organisation that works towards social change at the grass roots, across rural and urban India, through its Fellowship Programme.  It is committed to empowering marginalised people to lead a dignified life with access to livelihood, resources, rights and justice.  SRUTI supports people-oriented initiatives for alleviation of poverty and discrimination among some of the most disadvantaged communities in India.  From food security to education; rights to natural resources to livelihood generation; land alienation to urban concerns; untouchability to governance, agricultural issues to labour rights, SRUTI fellows engage in a wide range of activities including awareness raising; organising communities; perspective training and capacity building; documentation and advocacy across rural and urban India.
SRUTI not only facilitates and supports social action, but also strengthens it through the intermediary processes of advocacy, engagement, association, capacity building and solidarity.  Cross-fellowship learning through meetings and perspective building is also promoted.
Funds for the core fellowship support are raised by SRUTI through individual donations and independent resource mobilisation efforts e.g., scrap collection and other fund-raising activities.  Since its inception, SRUTI has supported the work of 167 fellows at the grassroots in 18 states across India.
SRUTI currently supports 33 fellows, 117 karyakartas (volunteers/activists) and their groups in 14 states: Andhra Pradesh, Bihar, Chhattisgarh, Delhi, Himachal Pradesh, Jammu & Kashmir, Jharkhand, Madhya Pradesh, Maharashtra, Odisha, Rajasthan, Tamil Nadu, Uttarakhand and Uttar Pradesh.  The current outreach of SRUTI fellows is over 7361 villages and 250 urban clusters covering around 6.8 lakh families and 34 lakh people.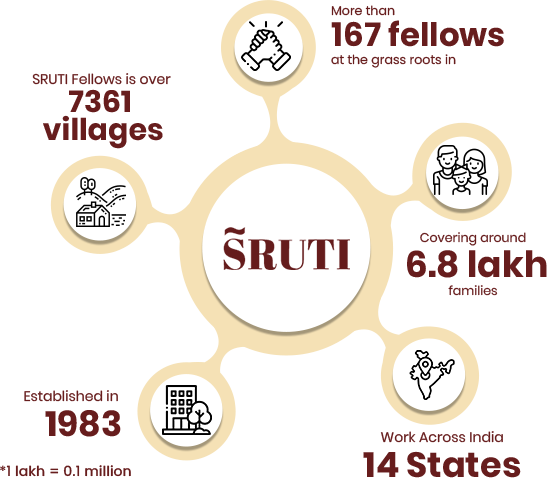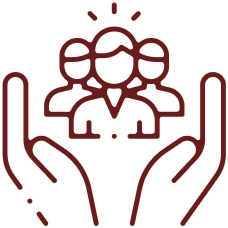 Vision
SRUTI and its fellows believe that directional social change and sustainable economic development can be achieved by empowering oppressed & vulnerable communities.  By equipping people at the grassroots to build and access a society based on the values of justice and equity, a life of fulfilment, dignity and respect can be achieved for all.