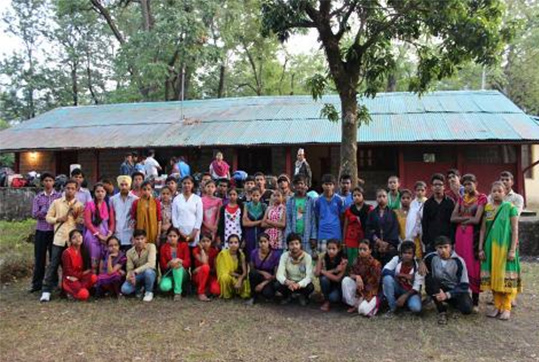 An exposure and training workshop for youth, primarily from slum resettlement colonies in Delhi was organized by Centre for Community Support and Social Development (CCSSD), the Delhi chapter of People's Foundation, founded by SRUTI Fellow Sadre Alam.Sadre has been working with youth of working class families that predominantly make a living in the informal sector – domestic workers, hawkers, carpenters and small shop owners.
Despite their contribution as crucial labour that drives the city's growth and functioning, these families are denied the rights that they are entitled to. They wage a daily battle for basic necessities like water, electricity and sanitation. It is in this everyday struggle that children and their needs are often left unattended, perpetuating the cycle of denial and deprivation.
CCSSD led by Sadre Alam attempts to connect with, and educate, impressionable youth through innovative ways, providing a way to creatively channel their energies. Taking forward the organisation's long-term work of knowledge-building in urban youth, the workshop was planned to widen worldviews, develop a sense of collectivity and encourage team spirit.
It addressed issues of increasing vulnerability and feelings of insecurity, particularly amongst boys. This has been observed to be a trend that arises as a result of absent social security systems and few opportunities. The workshop helped harness the energies of young adults living in difficult, urban circumstances where opportunities to learn, grow and think creatively are routinely denied. The group is gradually instilling confidence and a sense of purpose amongst these youth, while providing a crucial support system to those who often fall through the cracks.
The 5 day workshop from 27th to 31st May 2014 in Jeolikot, near Nainital, Uttarakhand saw a total of 87 boys and girls, aged between 14-20 years, from various resettlement colonies of Delhi including Bhalaswa, Bawana, Khanpur, Rohini and Shraddhanand Colony. There were also youth from Nainital district and UP's Faizabad and Tanda. It is important to note that 50% of the participants were girls.
DAY 1: After a train journey to Kathgodam, the workshop began with a carefully planned introductory session. Sparking friendships, discussions and open dialogue was key to the success of the workshop. This was initiated by encouraging the participants to overcome their apprehensions and inhibitions in an unfamiliar environment and attempt to know each other, and the context of their lives. The first formal session introduced the visiting young adults to the culture, livelihood and lifestyle of the people of Uttarakhand; the making of Uttarakhand state, the situation of its youth in the context of education, casteism and the dalit community. These were led by experienced resource persons such as senior socialist worker Inder Singh Negi, journalist Mohan Singh Bora and Mukul from Chesta, a local group working on women's issues. These sessions were followed by detailed question and answer rounds, to ensure that the youngsters could question and learn as much as possible about the area, before they went out on their visits to surrounding villages. For the field visit, the children prepared a list of open-ended questions and were divided into teams of 3-4. Each team was accompanied by a local person and they spent 2-3 hours with a family to understand the intricacies of life in this hill area, and how it is different from the plains. The children later wrote down their experiences in a report.
DAY 2: Saw lively presentations by the various groups about their field visit. Certain contradictions also emerged from the presentations which were caught beautifully and settled by the attentive peers. From the responses of some youth, one was also able to see their aptitude for such work. This was followed by a session conducted by gender trainer Chaitali. Through team exercises and games, youth were able to examine inherent gender inequities and understand the different kinds of work reserved for women and men, especially when it comes to household chores. Participants became conscious of the fact that boys tend to push forward their lives with ease; while girls, reluctant due to the lack of adequate support and encouragement, often are left behind. Different kinds of biases that girls have to face at home, in school and beyond, came to the surface.
DAY 3: Had separate sessions for girls and boys. The session with the girls was on reproductive health while that with the boys focused on the growing indecent behavior and lazy culture prevalent amongst boys. Discussions with girls on the issues of reproductive health have been an ongoing activity. After this, a joint discussion with boys and girls was organised to contemplate the causes for growing insecurities amongst boys, and the effect of this on each of their own lives. CCSSD plans to organise more programs on this critical issue of gender in the near future to build sensitivity and empathy amongst young men. The workshop concluded with an exploration of Nainital to see the town and also experience its tourism economy.
To conclude, participants Piyush, Deepali, Aarti and Gulafsha shared major moments of the entire trip including positive and negative aspects while acknowledging the contribution of supporting groups, colleagues and resource persons. Throughout the workshop it was the youngsters who took the ownership and planned the meal preparation and distribution responsibilities for all who attended the workshop. This added an aspect of both fun and seriousness of the responsibility.
It took several patient meetings and gradual relationship building with the parents to convince them to send their children out for an educational trip that was not part of their school curriculum. Parents, especially those of girls, were skeptical and widely viewed it as unnecessary 'ghumna' (roaming). Some worried about how they would explain the three day trip, with boys and girls traveling and living together, to questioning relatives. 3 girls were eventually unable to join the troupe due to such constraints. But there was a significant shift in perception post the visit. Seeing the levels of enthusiasm, whether in recounting one's experiences or working diligently for days on the report; parents were less anxious and more accepting of the exposure trip as a productive exercise. Some even laughingly commented that their daughters now talk too much and have started standing up to their bullying brothers!