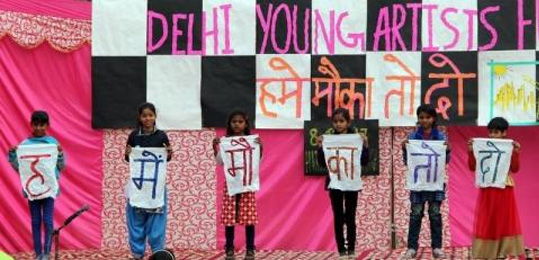 Delhi Young Artists Forum (DYAF) started in December 2007 by bringing together youngsters from Bawana, Khanpur, Wazirpur, Rohini and Bhalswa. Over the years they have raised social issues through creative expressions such as dance, songs and theatre.
There has been an effort since 2015 from the young artists to come together every one/two years to showcase their talents, spreading awareness on issues faced by communities from marginalised backgrounds in urban cities on larger forums – including those of forced evictions, improper resettlement and rehabilitation, social ostracization, administrative apathy and challenging individuals and families to confront issues of discrimination – amongst themselves and with the community at large.The previous convention was organised in the auditorium of Jawaharlal Nehru University (JNU), Delhi. This time the annual convention of DYAF, 'Hume Mauka Toh Do!' (Give us an opportunity!) was organized on January 8, 2016 at Gandhi Ashram Harijan Sewak Sangh, Delhi. It was attended by about 400 people coming from all walks of life, including young adults students associated with DYAF from the various bastis. The event was very well planned and coordinated which reflected their rigour and commitment despite living in not very conducive environments. The venue was marked with drawings and sketches made by group members. The drawings had a message to share, for instance one painting showed a long queue outside a bank being regulated by bank officials. Books, hand-crafted jewellery and hand-painted products like pots, cards, piggy-banks etc made by the children of DYAF were put up on display. A number of performances were lined up for the audience with the aim of highlighting gender disparities, problems faced by young girls while pursuing education, current developments in the country and the problems of exclusion in popular media and culture.
The girls from DYAF got an opportunity to showcase their talents through the cultural event which is usually not encouraged, and even looked down upon in some cases. Through plays they shed light on the pressures faced by women since childhood, the pressures of fulfilling the expectations of the society and the stigma attached with women entering public spaces. Linking it with their own lives, they tried to show how marriage was made the only goal for them and their entire life revolved around working towards the it by doing household chores. Groups from Bihar and Madhya Pradesh also joined the event and the former gave a dance performance. The event lasted for about seven hours. The children had been working very hard since months to deliver the performances which made the event successful. The coming together of so many girls from different ages and backgrounds was in itself a refreshing relief.
The idea of being a part of the forum and participating in its activities is an act of resistance in itself considering the difficult circumstances they are put in. Through plays they highlighted their resolve to follow their dreams despite the many hindrances from family and society. Sadre Alam who has been a constant pillar of strength for the girls, played an important role in the success of the event. The development paradox raises many questions for us. To be able to see stories, challenges and concerted efforts taking shape in a gathering is an encouraging sign. To be able to raise concerns, offer solutions we think will solve our own problems have slowly and sadly transpired to be a privilege of the rich and dominant. In times as these, the 'voices from the margins' refuse to die down, and are in effect becoming louder and clearer. Hume Mauka To Do. Indeed