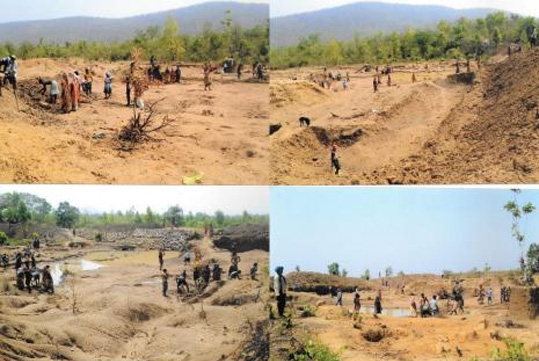 'Odisha has many rivers, vast forest cover and it receives above average rainfall annually. But, greed for minerals beneath the land and destruction wreaked by industries hungry to exploit the resources of the state have slowly choked the natural environment of the state. Most farm holdings are small or marginal dependent on the rains for irrigation. The deficit rains in 2015-16 pushed the state over the edge. The state is facing extensive crop loss and severe water shortage.
Even after exploiting its resources to the hilt, the people of the state have not been provided with piped water supply. In many ways, the drought in Odisha is man made.'- From Odisha Drought Profile 2016 prepared by South Asia Network on Dams, Rivers & People (SANDRP)The above situation is symptomatic of the 11 states ravaged by drought in 2016. In such bleak times, a village in Odisha is setting an example through an exemplary effort of democratic water management. Through community labour and collective planning and perseverance, Tulukpatia village has shown that small community-driven initiatives are the best way forward to meet people's resource needs while serving as far sighted investments in overall ecological conservation.A village of dry fieldsTulukpatia village is a hamlet in Parjang block of Dhenkanal district in Odisha. It is a village where SRUTI Fellow group Adivasi Chetana Sangathan (ACS) has been working for over two decades against the exploitation and repression of the predominantly adivasi population by powerful non-tribal vested interests. Home to around 65 Ho families that migrated from neighbouring Keonjhar and Mayurbhanj districts and from nearby Jharkhand about 90 years ago, most members earn their livelihood through daily wage labour. Through sangathan efforts almost all families have received homestead land pattas and 27 families have received rights to cultivation on forest land through the Forest Rights Aact 2006. But despite this small piece of land, a major problem was that there are no irrigation facilities for cultivation. There are only seasonal natural water streams flowing from the nearby Baruan forest and mountain which is a part of the Anantpur mountain range.People of Tulukpatia take chargeIn 2015, the villagers decided to construct a watershed by checking the water stream near their village, upstream of their agricultural lands. They decided to do this through collective labour contribution where 1 member from each family (men & women) will work for one day in a week. They collected half kg rice from each family per week for food at the work site. A committee consisting of 15 men & women headed by activist Gangadhar Munda was formed for organising and managing of this collective initiave.
The main purposes of the dam was envisioned as irrigation of the agricultural lands, vegetable & fish cultivation, plantation, forest protection, bathing and drinking of domestic & wild animals towards integrated development of the village and environment preservation.The check dam site and plan was finalised by the people and construction work began from December 2015, with villagers working in turns every Wednesday. Over 70 men & women contributed their labour towards the construction of the main dam and maintained an attendance register to keep track of this first phase of work. A total of 1440 man days of work were carried out by the villagers from December 2015 to June 2016. The work has been halted since June this year due to the rains. The water storage area will be about 30 acres and will irrigate more than 500 acres of agricultural land during the year. The water shall be supplied through 2 piped canals on either side without the usage of motor pumps.Secure agricultural prospects for a dignified lifeThe villagers are in the process of converting the barren lands into fertile agricultural land through this community initiative of courage and hard work. They are considering group cultivation to include economically or physically weak members of the village who will be unable to cultivate on their own. Discussions on experimenting with organic farming and horticulture gardens in the irrigated area have also taken place. The villagers have applied to the Block Development Officer of Parjang as well as the District Rural Development Agency and Collector of Dhenkanal for sanction of funds under MGNREGA for further construction of the watershed. In a positive response, funds have been assured by the authorities.ACS members have been actively involved in facilitating this commendable work and together with the villagers they have decided to organise a mega labour contribution day towards the project's completion by involving all the activists and people from each village of ACS and its partner sangathan, Malyagiri Adivasi Sangharsh Manch, in January 2017. The experience has not only contributed a great deal to the confidence and self-reliance of villagers but also been a strong boost to the unity amongst villagers and sangathan. More such endeavours in community management of resources are being planned for a sustainable development plan that ensures a life of dignity and autonomy to the people.