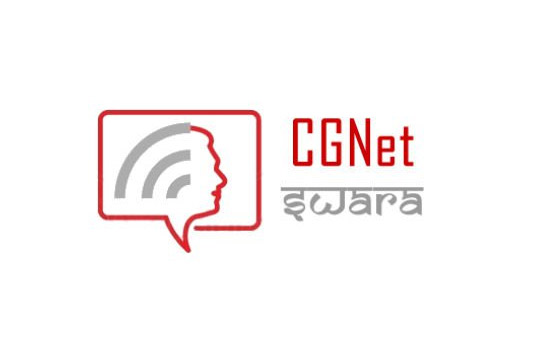 CGNet Swara has been pioneering citizen journalism from the most marginalized tribal regions in India since 2004. After almost two decades of working in mainstream media, former BBC journalist Shubhranshu Choudhary decided to dedicate his energy towards finding a more democratic medium that wouldn't exclude the 80 million tribals in the country, a majority of whom do not speak the national language.
He found a solution in CGNet Swara, a mobile-based voice portal that is poised to revolutionize the way news is generated and consumed. By giving a missed call on a Bangalore-based number (080-41137280), citizens across the country can report a story or listen to other news stories in local languages. These often unreported stories are also uploaded on the CGNet website – cgnetswara.org, forming an invaluable resource pool for journalists, activists and civil society. Several reports of administrative negligence, corruption and atrocities have received national coverage after being picked up by mainstream journalists and activists, often setting in motion required interventions from Government agencies.
Starting with tribal communities in Chhattisgarh as a way to provide previously unavailable access to mainstream media, CGNet hopes to "scale the service within India and eventually beyond, creating a vibrant ecosystem of local reports that is universally accessible via low-cost mobile phones." (from the CGNet website)
SRUTI Fellow Rajim Ketwas who has been working for natural resource rights for tribals and dalits in Mahasamund district of Chhattisgarh, is an active user of CGNet Swara. Her latest report can be accessed here – http://cgnetswara.org/index.php?id=10124. In an effort to mobilize more grassroots workers to use this empowering tool, a one-day training sessions was organised by SRUTI as part of the Centralized Activist Training held from 24-27th February 2012 in Mangaon, Maharashtra. Arjun Venkatraman from CGNet conducted the training session at Sane Guruji National Memorial which saw the participation of 88 karyakartas from 12 states. (View Photos)
Below is a brief summary of the activities excerpted from Arjun's notes of the day:
For day three while the senior fellows met separately, I had the day to myself with the grassroots workers. We spent the day discussing participation in democracy and the role of communication therein.
We started by distinguishing that the fundamental way human beings participate in groups, families, societies and ultimately governance is by communication, i.e. speaking and listening. We talked about the importance of being clear and making oneself understood. We then proceeded to talking about credibility and accuracy, which we underscored with an exercise to distinguish fact from fiction. For the rest of the day we talked about the structure of media and how the community can make itself heard.
The questions from the audience were mostly about content policies, i.e. what should be released and what shouldnt and also what CGNet Swara's specific policies were. I explained that as a group of individuals we were limited in the nature of the risks we could take and we consequently managed our content as such. However, we have made the technology freely available and other groups are free to set up replicas and determine their own content policies based on their confidence in sources and their own risk appetite. This was received well and several groups expressed an interest in replicating the platform.
Finally the participants split into groups and each group recorded a 3 minute report. The best one, it must be noted was one in protest against "CGNet representative Arjun" for preventing people from singing and forcing them to record reports. 🙂