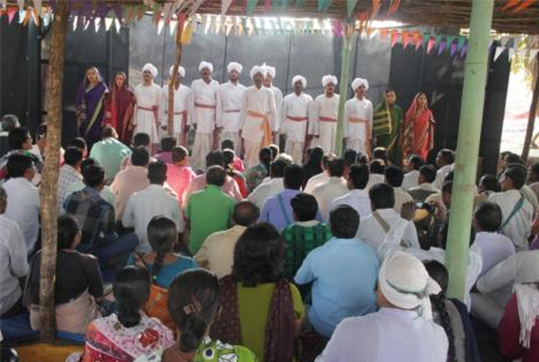 What started as a ray of hope in the extremist-hit Seraikela-Kharsawan district is now growing into a leading employment model for communities displaced by large dams. The cage culture initiative by Visthapit Mukti Vahini under the name of Chandil Bandh Visthapit Matsyajibi Swabalambi Sahkari Samiti (CBVMSSS), has provided much needed livelihood relief to 1,163 displaced families. CBVMSSS, which oversees 17 Fishing Cooperatives, has raised the average fish production in the reservoir from 6-7 kg per hectare to 80 kgs per hectare this year!
The cumulative value of fish produced since July 2012 is over Rs. 71 lakhs. This achievement was acknowledged by Planning Commission Members, Dr.Kasturirangan and Nidhi Khare, who visited the area last month. They applauded the ongoing work as a unique model and strongly felt that it should be adopted at all large reservoir locations in the country.
Sharing his thoughts with SRUTI, Dr.Kasturirangan said "I was very impressed with the initiative which is innovative, extremely effective in supporting livelihood and above all has also an entrepreneur dimension. I could see several stakeholders enthusiastically explaining their own ideas about this initiative. I personally feel this example should be widely known to all concerned in different parts of the country, so that in areas where large dam/reservoirs are likely to come up in future, this model can be adopted."
As part of the Central Government's National Mission for Protein Supplement Scheme, this project was introduced as a pilot in collaboration with the Fisheries Department. Technical guidance, skill development and step-by-step training of community members on cage construction and management have led to a pioneering adoption of the cage culture system in Jharkhand. It has so far only been successfully practised overseas in countries like Vietnam, Norway, Thailand and China.
Earlier this year, Union Rural Development Minister Jairam Ramesh interacted with members of the Chandil fishing cooperatives as well while on a visit to the state. Shyamal Mardi and Narayan Gope of CBVMSSS shared the issue of dearth of boats, following which Mr.Ramesh immediately asked the Collector to look into the matter.
Saraikela-Kharsawan district is plagued by lack of education, employment opportunities and infrastructure. Those displaced when 112 villages were submerged by the construction of Chandil dam have been doubly disadvantaged in this context. Not only has CDVMSSS stemmed extremist forces and provided a direction for aimless youth who are forced to migrate in search of jobs, it has also addressed the issue of food security for the affected through adequate self-employment. This has been crucial to ensuring meaningful rehabilitation, a cause that Visthapit Mukti Vahini has been spearheading for three decades.