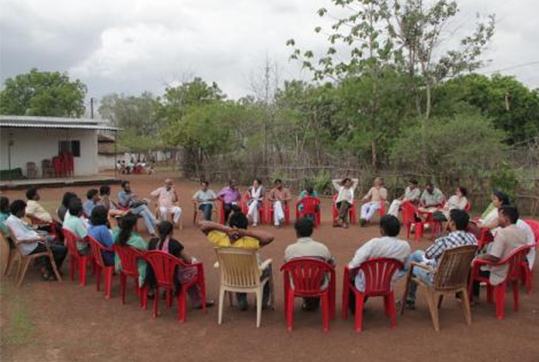 A 3 day shivir was organised by SRUTI from 25th – 27th June 2012 at Prayog Ashram in Tilda near Raipur, Chhattisgarh. Crucial legislations in today's socio-economic and political context such as Panchayat Extension to Scheduled Areas Act 1996 (PESA), Forest Rights Act 2006 (FRA), Land Acquisition Rehabilitation and Resettlement Bill 2011 (LARR) and Mines Minerals Development and Regulation Act Bill 2011(MMDR) were discussed and debated at the workshop. Nuances, challenges and prospects of each of these inter-related legislations were elaborated in detail to provide a comprehensive understanding of their far-reaching implications.
The first day's focus areas were the PESA Act 1996 and the FRA 2006. Ex-bureaucrat and tribal rights activist Dr.BD Sharma spoke of the fundamental flaws in PESA that have been consistently ignored since Independence. He stressed on the fact that the gram sabha in Schedule V areas is a self-sufficient constitutional body which implies that the State has no authority whatsoever in decisions pertaining to tribal areas. He felt that the biggest problem tribals of the country currently face is the blatant assumption of the State that it is the owner of all natural resources as per the Principle of Eminent Domain. Rejecting the label of anti-development, Dr.Sharma reiterated that adivasis should be able to know and decide where they stand in this development process and how they can have ownership to resources that share a symbiotic relationship with the tribal population.
Bijay Panda of Bharat Jan Andolan spoke of the dilemma faced by movements today when it came to legislations. Vth schedule, PESA and FRA are three ways to challenge the system he felt and spoke at length of the risks of being mired in the implementation of laws losing sight of the bigger picture. Contrary to popular belief, the main thrust of FRA is rights and not pattas. Stating that Community Forest Rights is the only way to truly support the struggle for forest rights, he also highlighted the importance of having an alternative road map to counter the current path of development which is happening at the cost of sustainable livelihood and resource management.