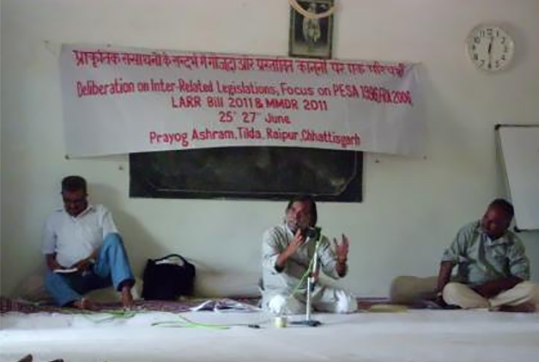 The second day saw discussions on the LARR Bill 2011. Sudha Bhardwaj of Chhattisgarh Bachao Andolan (Raigarh), Prafulla Samantara of Lok Shakti Abhiyan (Bhubaneshwar), Anil Chaudhury of PEACE (Delhi) and Ulka Mahajan of Sarvahara Jan Andolan (Mangaon) all shared their insights on the current state of land acquisition across the country.
The situation in Chhattisgarh was discussed in detail. Increasing militarization, rampant abuse of the Land Acquisition Act 1894 and cartelization of industries were highlighted. There is increasing evidence of the administration being co-opted by corporate interests with open incentives for govt. officials to aid acquisition of land for private profits. This is also clear from the impetus given to coal mining projects whose proposed output cumulatively far exceeds the country's peak power requirements. Another impending threat was the Indo-Japan mega infra-structure project – Delhi-Mumbai Industrial Corridor – spread across 2700kms and six states.
It felt that there is a grave need to articulate our needs and move forward keeping the timing of the election in mind. A 'common minimum ideology' was suggested to bring varied people's movements together. Alongside a consolidated strategy, agricultural struggles will have to be strengthened and united as part of an alternative political thought.
Bijay Panda of Bharat Jan Andolan spoke of the dilemma faced by movements today when it came to legislations. Vth schedule, PESA and FRA are three ways to challenge the system he felt and spoke at length of the risks of being mired in the implementation of laws losing sight of the bigger picture. Contrary to popular belief, the main thrust of FRA is rights and not pattas. Stating that Community Forest Rights is the only way to truly support the struggle for forest rights, he also highlighted the importance of having an alternative road map to counter the current path of development which is happening at the cost of sustainable livelihood and resource management.