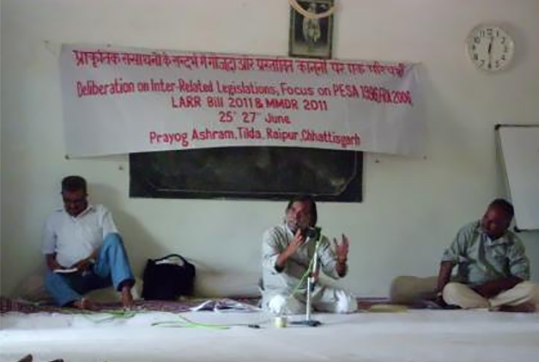 The last day saw Anand Mishra of Chhattisgarh Bachao Andolan, Ramesh Agarwal of Jan Chetna (Raigarh), Ravi Rebbapragada of Samata (Visakhapatnam) and Sreedhar of Mines, Minerals and People speak on the mining situation and the MMDR Bill 2011. From various accounts of coal mining in Chhattisgarh and Odisha, the devastating effects of indiscriminate coal mining were discussed. Power plants run by multi-national companies in these areas have been consistently flouting laws at several levels ranging from the mandatory public hearing and environmental clearance to PESA and Vth Schedule procedures. Alternative ways such as increasing the efficiency of power plants through renovation are being ignored despite being cost effective methods.
Ravi Rebbapragada spoke of the genesis of the landmark Samata Judgement which has managed to stall mining in Andhra Pradesh's forest areas for over 20 years. The MM&P network was born out of an urgent need to share experiences, analyses and insights on the rapidly evolving mining activities in the country. Sreedhar presented a comprehensive overview of the mining scenario, the extent of illegal mining and proposed development plans that involve mining on a massive scale. He spoke of the importance of increasing the acquisition cost of land for companies and using three important ways to tackle the scale of land grab for mining – window of administrative justice, window of law and window of protest.
Regarding the MMDR Bill 2011 draft, MM&P has been working towards inclusion of 21 points with a focus on profit sharing, royalties or compensation & rehabilitation for those affected. This would be the only effective way to keep track of the destruction of the forest by involving all concerned groups. These suggestions have not been received favourably by the standing committee. Instead, further harmful provisions such as increase of mining lease period and area, easing rules for violations, etc. have been added. Sreedhar also spoke the Land Titling Bill which aims to give a number to each piece of land that has been proposed for industries.
Arvind Anjum of Visthapit Mukti Vahini, Ejaz Kaiser of Hindustan Times, Comrade Nandkumar Kashyap and Shubhrangshu Choudhary of CGNET also addressed the gathering in the last session.