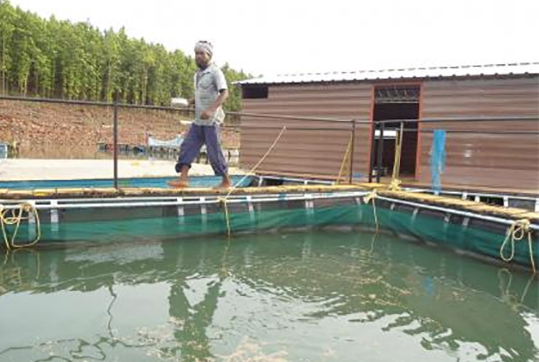 Visthapit Mukti Vahini continues to initiate vital livelihood measures for those displaced by the Chandil Dam in Saraikela Kharsawan district, Jharkhand. The dam was commissioned in 1982 as part of the Subarnarekha Multipurpose Project (SMP) for irrigation, hydropower generation and water supply. However, the overall dam construction and more importantly the rehabilitation of 25,000 affected families has been a painfully slow process. The displaced people have faced great suffering due to the submergence of their land, and absence of alternate resources.
Earlier hopelessly alienated from their land and water, through VMV's initiatives to positively engage with government mechanisms to generate sustainable livelihoods, the local people here are now building a hopeful and self-reliant future for themselves, accessing the very natural resources that they were dispossessed of.
Thanks to the sangathan's efforts, 984 members from 60 villages of the submergence zone are now part of a cage culture fishing initiative called Chandil Dam Visthapit Swablambi Sahkari Samiti, in collaboration with the Jharkhand Government. This is one of the first examples of cage culture in a reservoir run by displaced people. This new pattern of fish cultivation makes efficient use of the vast reservoir areas and has yielded satisfactory results. The program complements other existing livelihood initiatives of the sangathan including dam tourism and fringe area irrigation for agriculture and horticulture. These have helped empower members of the displaced community left dispossessed and resource-less in the earlier years of land acquisition for the SMP.
The Chandil Dam struggle is one of the notable early movements against the construction of big dams that largely neglected the social and human impacts. Over the last three decades, Visthapit Mukti Vahini has played a key role in not only reinstating and rehabilitating the Chandil dam displaced, but also by creating a positive, working example of assertion of rights of people dispossessed and affected by development projects in the country.