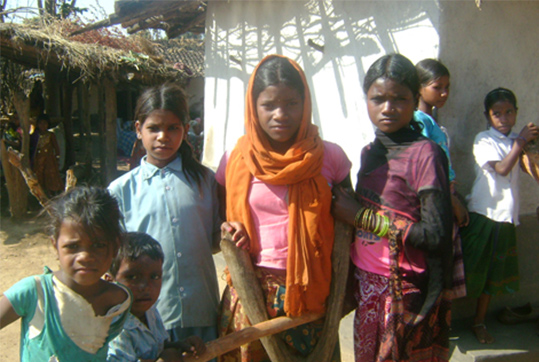 Chhattisgarh's vast northern region that includes Surguja, Korba, Jashpur, Korea and Raigarh districts is infamous for human trafficking cases. Instances of men taking away impoverished girls to big cities on the pretext of providing them jobs and forcing them into prostitution have been on a steady rise in the past decade. Congress leader Ajit Jogi in a recent statement said that over 20,000 girls belonging to Chhattisgarh's tribal region have been sold by human traffickers in the last eight years in cities like Delhi, Mumbai, Bangalore and Chennai.
Another case of human trafficking was recently revealed in Jashpur. Two girls, both aged 16 were tortured after being handed over to a placement agency in Delhi by middlemen. The girls were told that they will be paid Rs.1200 every month but it was what they received in return for two whole years of domestic labour. This would mean that they were paid Rs.104 per month. Both were brought back
Adivasi Mahila Mahasangh
.
The girls said that their neighbour in the village, Mangra Ram and his wife Jacinta live in Delhi where Jacinta runs a placement agency. They were lured from their village Thuthi Amba in Jashpur district by Mangra Ram who told them that he could get them better work and money in the city. The teenage girls fell for the trap and left for Delhi with him without telling their parents. There, they were handed over to Jacinta's placement agency. The agency put them to work while back home the parents of the girls tried to find them in vain.
This year alone, 20 women have been rescued and brought back to Jashpur. Nearly 50 cases have been registered but the biggest challenge remains to be the reluctance of the victims themselves to register a case.