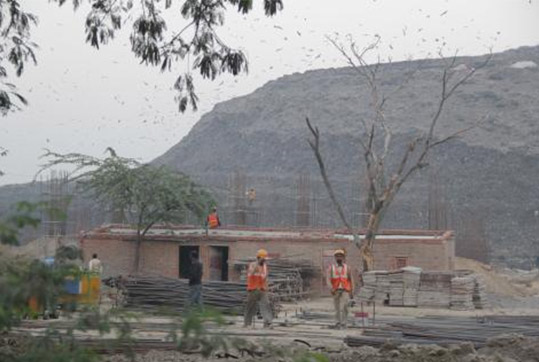 The residents of Ghazipur and the waste pickers of Delhi invite you to a citizens hearing on the proposed Waste-to-Energy (WtE) project at Ghazipur. This is the second in a list of three mega WtE plants to be operational across Delhi soon. Together these plants will incinerate over 8000 tons of waste everyday. Apart from unchecked toxic gas emissions, these proposals will also displace over 200,000 waste pickers in Delhi, who help recycle this same waste thereby protecting the environment.
The residents of Okhla and waste picker organizations of Delhi have also been working for over three years against the Timarpur-Okhla Waste to Energy Project. Incineration of waste leads to toxic emissions (dioxins) and heavy metals that pose a serious threat to public health and environment. Despite stiff opposition to such projects, the Delhi government has been audacious enough to sanction more such projects.
The 1300 tons per day Ghazipur WtE project is clearly an improper solution to solving the waste crisis. Waste pickers of Delhi and residents of Ghazipur have decided to oppose these proposals not only to protect their livelihoods but also the environment and health of its residents. Towards this, we seek the support and solidarity of civil society and citizens of Delhi. We need all the support possible to make sure that these projects and their impact are evaluated fairly and in a professional manner. Hope to see you there.
WHAT: Citizens Hearing against Ghazipur Waste-to-Energy Project
WHEN: 24 March 2012, 12.30pm onwards
WHERE: Assembly near Govt. Veterinary Hospital, Ghazipur Dairy Farm, Delhi – 96
The Citizens Hearing had initially been planned for the 25th of February, 2012. Unfortunately, on 31st January a fire destroyed 500 slum huts and all our energies were directed to providing basic facilities for the families.
http://www.aikmm.org/pages/appeal-for-support-more-than-500-slum-huts-gu
For more information contact:
Shashi Bhushan Pandit – 09968413109
Dharmesh Shah – 09962516546
In Solidarity,
Ghazipur Anti-Incinerator Committee, Residence welfare Associations Ghazipur, All India Kabari Mazdoor Mahasangh (AIKMM), New Trade Union Initiative (NTUI), Centre for Education and Communication (CEC), Human Rights Law Network(HRLN), Hazards Center, Global Alliance for Incinerator Alternatives (GAIA), Association for Social Justice and Research(ASOJ), Bal Vikash Dhara (BVD), Green Flag Kachra Sharmik Union and Janpahal.