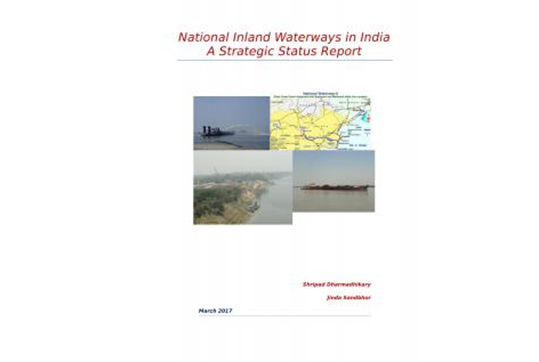 Access the full report below:https://www.scribd.com/document/355893674/Strategic-Report-on-National-I…Strategic Status Report on National Inland Waterways in India published by Manthan Adhyayan Kendra and SRUTI is the first study report after the enactment of The National Waterways Act March 2017 and which has declared 111 rivers or river stretches, creek ,estuaries as National inland waterways ,with the specific objective to identify the range of social and environmental issues and provided by inland waterways and the extent to which these can be quantified and to provide guidance to users on valuing these issues.
The study starts by questioning popular notion that is inland water ways are fuel-efficient compared to the other modes of transport, rail and road and seamless interconnectivity connecting hinterlands along navigable river coasts and coastal routes" and that " riverine routes are likely to play a crucial role in connecting the north-eastern states to the mainland."However, this study says these advantages are neither unqualified, nor automatic.
They will manifest only when certain conditions are met, and only under certain circumstances. Waterways by definition are encroaching upon rivers, estuaries, creeks and deltas which support rich flora and fauna not just aquatic but also terrestrial and sustain livelihood of large population. The study report examined the likely impacts in the construction, maintenance and operation stages. Capital dredging is unexceptional activity in development of waterways which includes removal of silt, rock, sand and clay from river to construct the navigational channel of desired depth and width. Dredging physically cuts and damages the river bed, and can lead to change in habitats for various aquatic flora and fauna and turns river turbid due to , fish tend to run away from the site and this ultimately reduces fish catch in the area. The other impacts are loss of water from river and loss of ground water due to cutting in to the river bed, ingress of excess saline water into the creek or rivers, removal of trees and mangroves, restriction for fisher community in accessing river due to construction of jetties and river ports, and destruction of riverbed cultivation, alteration of river flows due to construction of barrages.The study also gives descriptive analysis of socio cultural impacts which included implication on livelihoods of people dependent on the rivers and creeks .Fisher community are the worst affected . For example the development of the waterway in the Mahanadi delta in Odisha will cut-off the access of hundreds of fishing boats to the best parts of the marine fishing areas. People dependent on riverbed cultivation can also face loss of livelihoods. Displacement is another serous issue as land is needed for number of facilities like ports, jetties, and other infrastructure.The full range of environmental and social issue is rarely considered in decisions over the use or development of inland waterways and their surrounding areas; this can result in incorrect decisions being made.