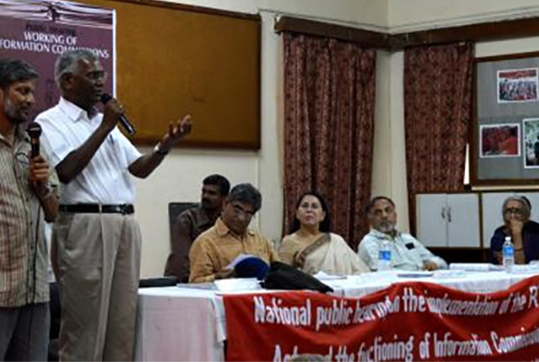 A National Public Hearing on implementation of the Right to Information Act and functioning of all Information Commissions was held at Gandhi Peace Foundation in Delhi on 12th October, 2012. The event started off with a keynote address by Nikhil Dey (NCPRI) and was followed by a play staged by a Rajasthani troupe. The play portrayed the importance of RTI and people's awareness of key government policies, laws and functioning.
Odisha's Information Commissioner, Mr. Jagdananda; Mr. Shailesh Gandhi (Former Chief Information Commissioner); Mrs. Deepak Sandhu and Mr. H.Hussain from the Central Information Commission and Aruna Roy of NCPRI were among the key panelists.
Moderated by Nikhil Dey and Anjali Bharadwaj of Satark Nagarik Sangathan (SNS), the first session saw a detailed discussion on the issue of pendency of cases. RTI activists, advocates and those who had filed petitions in their respective State Information Commissions shared their grievances relating to pending applications and delay in disposal of cases.
Representatives from various states including Manipur, Assam, Kerala, Gujarat, Odisha, Rajasthan, Jammu & Kashmir, Uttar Pradesh, Karnataka and Delhi highlighted the major loopholes in the functioning of State Information Commissions. The Information Commissioners and members of NCPRI clarified important aspects of the RTI Act and spoke of a need to redress the issues highlighted as well as the requirement of a practical mechanism to address the problem of pendency.
The second session started off with a song sung by the different members of civil ociety organizations working on better implementation of the RTI Act. After another round of petition hearings by state representatives, the discussion focused on ways to address the existing issues. A thirteen pointer resolution complied by NCPRI in collaboration with other civil society organisations, as a follow-up to the 13th September Supreme Court judgement (regarding new amendments in the Act) was discussed. Aruna Roy, Shailesh Gandhi, D. Raja (CPI National Secretary and Rajya Sabha Member) and Mrs. Deepak Sandhu broadly outlined measures and approaches to these resolutions.
People's consent was sought on each of the resolutions put forward and any disagreement was openly discussed. The event concluded by stressing on the importance of people's pressure on Information Commissions and sensitization of people regarding the Act for its rightful implementation.
The document with the final resolutions may be accessed below.
More photos here.