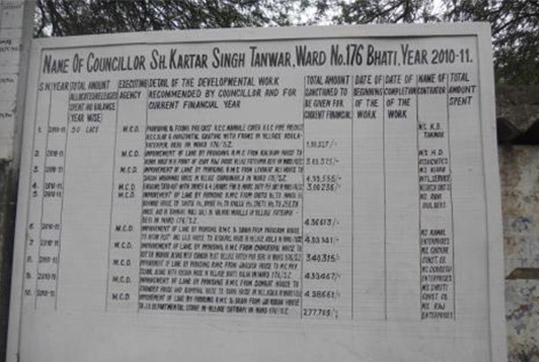 Satark Nagrik Sangathan (SNS) has been demanding that information on the performance of elected representatives must be provided under Section 4 of the RTI Act. As a result of complaints filed by SNS in the Central Information Commission, the CIC in two landmark decisions ordered the Chief Secretary of the Delhi Government and the Commissioner of the Municipal Corporation of Delhi to install boards in every ward of Delhi displaying expenditure details of local area development funds of the MLA and Councillor of that area. As per the orders, details of the expenditure incurred in the current year and the previous year have to be provided on these boards in Hindi.
Satark Nagrik Sangathan along with other citizens' groups and individuals has been carrying out information audits to monitor the compliance with the orders of the CIC. The audits show that in several wards the boards have been displayed in the manner prescribed whereas in several other wards the boards have either not been displayed or have been displayed in contravention with the orders.
Further, residents of several wards in Delhi have verified the works that were done using the Councillor funds in their areas. The works were checked by visiting the work location. Some works could not be found. More importantly, a very large proportion of works done are non-priority works like installing fancy lights in parks while there are many development problems faced by local residents of the wards which have not been addressed.
The National Campaign for Peoples' Right to Information (NCPRI) and SNS are organizing a public hearing on the 5th of March, 2012 (Monday) from 2-4 pm at the MCD Community Hall in Malviya Nagar to discuss the outcome of the information audits undertaken by residents. Several issues will be discussed at the hearing, including the importance of transparency in the allocation of these funds, the need for proper guidelines for utilization of Councillor funds and the need for effective public consultation mechanisms for deciding which development works should be undertaken.
Your presence at the meeting would be extremely valuable. We request you to join us for the hearing.
Best wishes and regards,
Aruna Roy, Nikhil Dey and Anjali Bhardwaj
On behalf of NCPRI and SNS