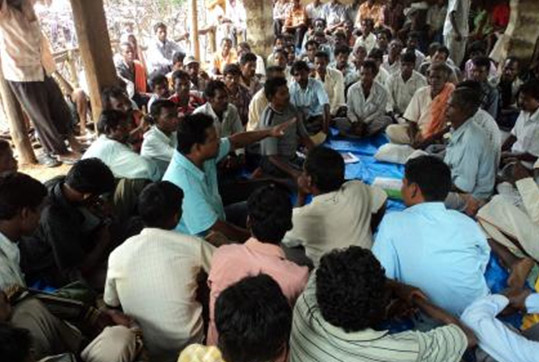 Implementing one of the major recommendations of the Justice Wadhwa Committee to streamline the Public Distribution System (PDS) in Odisha, the state will be abolishing the 62-year old private storage agent system, putting in place a new storage agent system managed by the State-run Orissa State Civil Supplies Corporation (OSCSC) from April 1st 2012. Sustained campaigns by Adivasi Kranti Sangathan, an active member of the Odisha Right to Food Campaign, for the universalization of PDS and eradication of irregularity in the food security scheme for the past 3 years have had a commendable role to play in this welcome decision.
Realising that storage agents are a consistent source of corruption, the sangathan brought the matter to the notice of the Central Vigilance Committee constituted by the Supreme Court of India and headed by Justice DP Wadhwa who had visited tribal areas of Keonjhar district adjacent to Kankadahad block in Dhenkanal in April 2011.
The Justice Wadhwa Committee submitted a 50-page report in November 2009 with suggestions and recommendations to the Government of Odisha (GOO) where one of the major recommendations of the Committee was replacement of Private Storage System with Departmental Storage System (DSS). After procuring the required essential commodities at the Rice Receiving Centres, OSCSC would make door deliveries of rice, wheat, kerosene and sugar at retail points to avoid irregularities and black marketing.
After a pilot initiative in 4 districts – Sonepur, Deogarah, Nuapada and Boudh – in November 2011, the state will now be phasing out the system all together in all districts of Odisha. In light of leakages amounting to an estimated 43 per cent of the food subsidy and PDS getting more targetted, Adivasi Kranti Sangathan continues to monitor the implementation of the Wadhwa Committee recommendations in Dhenkanal district to ensure a fair and efficient PDS.