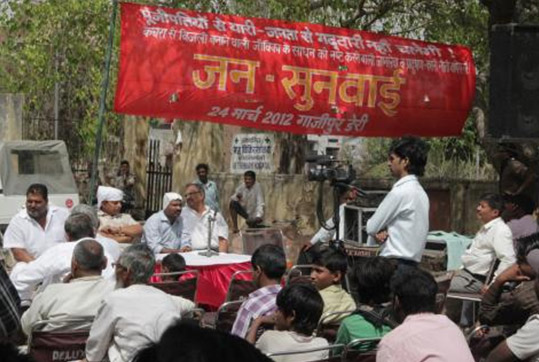 A public hearing was organised at Ghazipur on 24th March 2012 to discuss the impact of the waste-to-energy incinerator currently being constructed in the area by New Delhi Waste Processing Company Private Ltd., (NDWPCL), a joint venture of Government of Delhi and Infrastructure Leasing & Financial Services Limited (IL&FS) Ltd.
Despite prior permission letters to requisite authorities including the Commissioner of Police, local police resorted to various pressure tactics days before the event.
The Ghazipur RWA was not allowed to make announcements to residents regarding the hearing while ragpickers from the Ghazipur basti (50 metres from the Ghazipur Dairy Farm where the hearing was held) were stopped from participating in the event. The Station House Officer, Mr.Sunil Kumar, denied knowledge of any permission letter and was present along with other personnel at the venue throughout the day.The hearing saw Ashim Roy of New Trade Union Initiative, Shibu Nair of Thanal Environmental Group (Kerala), Sant Ram of Ghazipur RWA and Shashi Bhushan of All India Kabadi Mazdoor Mahasangh speak of the imminent environmental and health risks as well as the short-sightedness of the Delhi Government in employing unviable and costly methods to manage the city's waste.
Three WtE projects have been planned by the Delhi government through Public Private Partnerships in Timarpur-Okhla, Ghazipur and Narela Bawana. This is despite past experience of a WtE plant at Timarpur (setup by the Ministry of New and Renewable energy in 1987) which failed to generate electricity due to lack of waste with a high calorific value (paper, plastic, cardboard). Waste of this kind is already sifted by the informal network of ragpickers at the source since there is no proper system in place. In spite of high air pollution risks, the incinerators have been listed to earn carbon credits from the Clean Development Mechanism (CDM) of the United Nations Framework Convention on Climate Change (UNFCCC).
Ghazipur has 36 lakh residents with a DDA colony, school and dairy farm located 60 feet away from the plant. The ragpicker community that constitutes the basti is worst effected due to loss of livelihood in addition to the environmental and health hazards.