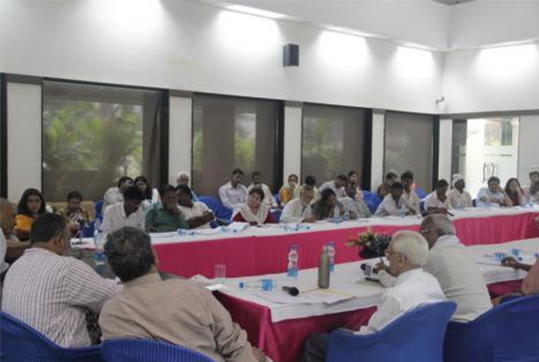 A day long consultation on the "Proposed Land Bill: Development or Investment?" was organized by SRUTI on 30th August 2012 at the Constitution Club, New Delhi. The event was a follow-up to the Janmorcha and meetings co-ordinated by SANGHARSH (an alliance of various grass-root based organizations) on the land issue.
Several crucial aspects of the Land Bill such as commoditization of resources; impact on agriculture and livelihood; control over resources; food security & sovereignty; decentralized democracy & effective PRI, and the socio-economic-political impact were discussed as part of four focused sessions. The event saw the participation of distinguished guests speakers such as
Dileep Singh Bhuria (Ex-Central Minister & Chairman Bhuria Committee) P.L.Punia (INC– Parliamentary Standing Committee Member & Chairman-National Commission for Scheduled Castes) and parliamentarians P.Rajeeve (CPM- PSC Member); SP Singh Baghel (BSP) and A.V.Swamy (Independent – Member of Rajya Sabha)
.
The speakers also saw representation from various peoples groups and movements from across the country including Ulka Mahajan (Sarvahara Jan Andolan – Maharashtra), Anand Mishra (Chhattisgarh Bachao Andolan), Kavita Krishnan (CPI-ML), Ashok Chowdhary (NFFPFW), Lingaraj (Samajwadi Jan Parishad), Jayashree (Adharshila – Maharashtra), Jang Sai (Bharat Jan Andolan), Arvind Anjum  (Visthapit Mukti Vahini – Jharkhand), MJ Vijayan (Programme for Social Action), Anil Chaudhry (PEACE – Delhi), Shankar Gopalakrishnan (Campaign for Survival and Dignity), Devendra (Hum Kisan Sangathan – Rajasthan) and Vilas Bhongade (Ghosikhurd Prakalpgrast Sangharsh Samiti – Maharashtra). Many other sangathans from across the country were represented among the attendees and moderators.
Summary and key points that emerged from the event are attached below.
More images here.