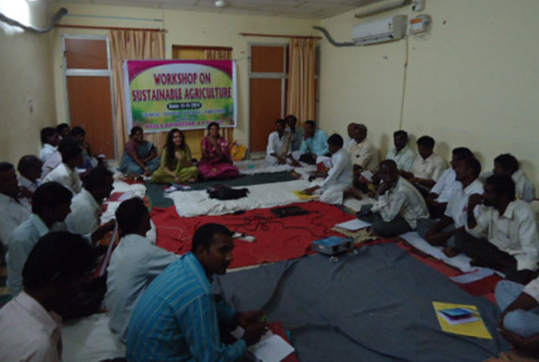 A state-level consultation on agricultural issues and concerns was organized on 11th November 2011 in Tirupati, by MASS & Navajeevan from Andhra Pradesh and facilitated by SRUTI. The aim was to build resilience and enhance productivity of small holder farmers for adequate and nutritious access to food. A total of 35 small holder farmers (SC/ST/OC) belonging to different socio-economic backgrounds attended the consultation. Scientists from N.G.Ranga Agricultural University were called as resource persons to participate and address the concerns of small and marginal farmers in an effort to make agriculture more sustainable.
Sunanda from MASS and Sahadeviah from Navajeevan anchored the event along with Programme Executive Manisha Lath from SRUTI.
To address the productivity and quality related concerns of small and marginal farmers, Mr. Reddy Kumar, a senior scientist discussed different types of land, the cropping pattern and shared the methods of disease management to improve the quality of soil.
For instance, he explained that ingredients such as green manure, neem oil, and cow urine should be preferred over fertilizers and urea that is available in the market to improve the quality of land and to achieve greater productivity. Soil temperatures need to be assessed and monitored and sowing should be done accordingly.
Other aspects that were discussed in the consultation collectively were: the current agricultural situation, types of soil, fertilizers, crops and cropping patron, crop yielding, seed and cleaning, organic agriculture farming, changing climate, diseases, vermin-compost, govt. schemes / programmes / policies, subsidies, market rates of produce and the future action plan.
Dr.Murali Krishna and Mr. Krishna Reddy spoke on climate change adaptation techniques and different types of pests that have emerged due to the changing soil temperature. The consultation was interactive and everyone shared local and scientific knowledge.