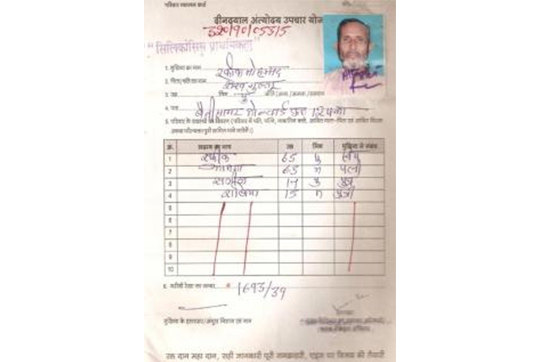 On 12th September 2014, due to the efforts of Patthar Khadan Mazdoor Sangh, the National Human Rights Commission ordered the state government of Madhya Pradesh to provide compensation to families of four persons who died in Panna District due to silicosis. Deeming the occupational disease as a violation of Article 21 of the Constitution which guarantees right to life, the Commission ordered the State government to provide compensation of Rs.3 lakhs to family members of the 4 stone labourers who died recently due to silicosis.
Around 100 health cards have been issued to silicosis victims by the district administration for free and priority medical services provided under the state's Deendayal Antyodaya Upchar health scheme.
This is the first time in the history of MP that the government has recognized silicosis or silico-tuberculosis, an incurable lung disease caused by inhaling dust containing free crystalline silica.
Silicosis is a deadly occupational disease contracted by unprotected workers in stone quarries/mines, construction sites, glass factories and other silicon dust producing plants. These unorganised sector workers, who are often migrants, do not have any employment proof and hence are not eligible for social security schemes under the Labour Ministry. This technicality has also been long exploited by authorities across the country to evade responsibility.
Patthar Khadan Mazdoor Sangh, led by SRUTI Fellow Yousuf Beg, has been following up with the issue of silicosis at various fronts since the last four years in Panna district. The sangathan had identified a total of 117 workers suffering from the dreaded disease through two health camps organised in 2011 and 2012. With the findings from the health check-up, the sangathan approached the District Collector for rehabilitation and medical support but was told that there isn't a single provision to support silicosis victims. Despite being a district known for its stone mining, not a single case of silicosis could be found in official records. Following this, Yousuf and sangathan karyakartas mobilized stone workers and met the NHRC, competent authorities, political leaders and media houses to highlight the issue.
Rajasthan and Gujarat are two other states where silicosis amongst mine and quarry workers is highly prevalent. While Gujarat has done close to nothing to alleviate workers' suffering, the government of Rajasthan, following an order by NHRC, has modified the Rajasthan Workmen's Compensation (Occupational Diseases) Rules 1965 and made provisions for diagnosis and payment of compensation to silicosis victims. These victims are not required to show any employment proof to claim this compensation.
Taking this as a precedent, Yousuf Beg and Patthar Khadan Mazdoor Sangh moved the NHRC and filed a complaint against the district administration and State and provided relevant survey reports, medical reports and situation of the district. Finally, in September this year, NHRC heard the ignored voices of silicosis victims.
After the landmark victory, the sangathan is now working to expand its reach amongst mine workers in the area and ensure their safety and medical facilities.