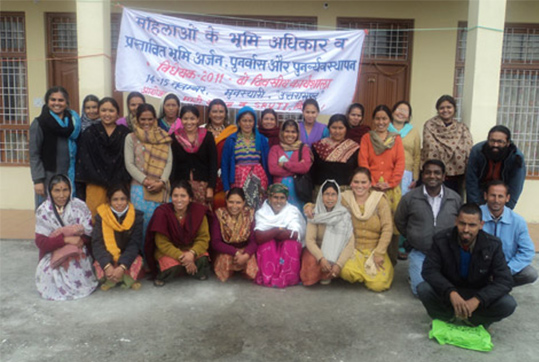 A two-day consultation was facilitated by SRUTI in Munsiyari from 14-15 November 2011 to understand the problems and challenges before small holder farmers in the region. The consultation was held at the Old NTPC guest house in Munsiyari.
102 farmers participated in the consultation and shared their views on the issue. 80% of the participants were women. Apart from agricultural issues, discussions on other related aspects such as land acquisition, climate change, women's property rights, etc. took place.
Advocates Rahul Chaudhary and Pramod Kumar from Delhi played a key role providing important legal perspective on the issues.
Malika Virdi
and Ram from Himal Prakriti anchored the consultation with SRUTI personnel Satyam Shrivastav and Shweta Tripathi also sharing agricultural practices from other parts of the country.The main issues discussed were –
Current scenario of small holder agriculture in Uttarakhand and its place in the large context of the country
Policies and legislations related to agriculture such as Seeds Bill, Land Titling Bill, farming policies, Right to Food Bill, etc.
Climate change and adaptation techniques
Legislation related to natural resources such as LARR, MMDR, etc.
Legal aspects of women's property rights