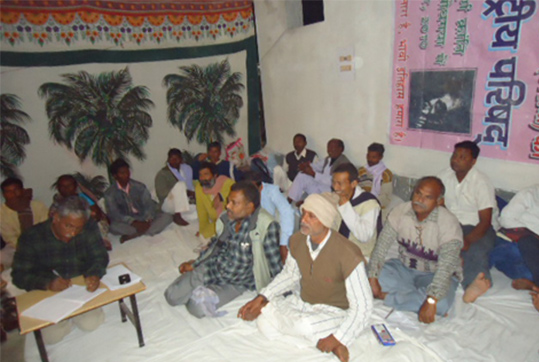 A two-day consultation was facilitated by SRUTI in Patna, Bihar, from 29-30th November 2011 to discuss problems and challenges faced by small holder cultivators / farmers.
The consultation saw 40 participants from 5 districts of Bihar – Patna, Madhubani, Ara, Gaya and Khagariya. The participants shared problems and challenges currently being faced in agriculture.
Professor Mahendra Narayan Karna, an eminent sociologist, Parth Sarkar and Satish Kumar from 'Mazdoor' magazine, Nand Kishor Singh, social activist, Krishna Dev Choudhary from Lok Panchayat Mandal, Ramraj associated with ATMA programme and
Sanjeev Kumar
of Bahishkrit Hitkari Sangathan were present while Panchdev form Lohia Karpoori Institute of Technology for Social Change facilitated the meeting.  C.A.Priyadarshi and
Kailash Bharti
of Mazdoor Kisan Samiti anchored the consultation.
The main issues discussed were –
Current scenario of small peasantry in Bihar and in the larger context of India
Cost analysis of crops
Reasons for increasing costs of farming
Policies and legislations related to agriculture such as Seeds Bill, Land Titling Bill, farming policies, Right to Food Bill, etc.
Obstacles in the way of sustainable agriculture and its scope in a neo-liberal economy
Climate changes and adaptation techniques
After a long discussion and debate, the consultation ended on an encouraging note since Bihar is bound to be a village-centric society as 90% of the total population lives in villages with agriculture as their main sustenance.