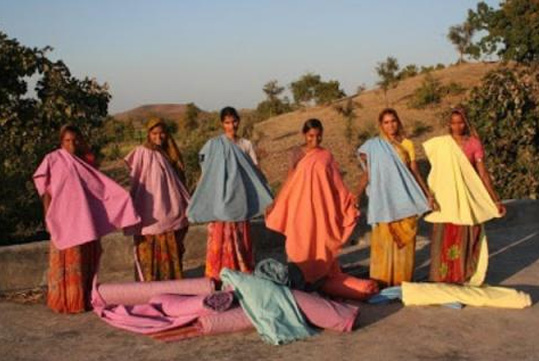 Hum Kisan Sangathan has been working since 1988 in Jhalwar district of south-east Rajasthan, based in a small village named Jhiri. What started off as a small discussion group among community members visibly grew over the years into a dynamic and assertive coalition of agricultural workers, small and marginal farmers, women and children into building active volunteers at the village level, educators, trainers and skilled workers in handlooms, in what has primarily been an agrarian economy.
It currently has presence in more than 50 villages of Manohar Thana block. The members of the sangathan have worked on a range of issues by raising awareness through performance of plays, street theatre and developing cultural groups in villages. Their efforts have challenged various stereotypes and resulted in incremental growth in areas of education, health, child marriage, domestic violence and communalism, to name a few. The journey of the Adarsh Hathkharga Cooperative has been a long one, passing through various phases of stagnancy and successes.The idea behind the cooperative was to engage the members of the sangathan in an economic activity and to create alternate livelihood options. The cooperative, since its inception has successfully curbed migration to cities and towns by providing sustainable livelihood opportunities. The vision for a handloom cooperative came in 1992 but it could be registered only in 2004. This long gap preceding the actualisation of the plan primarily due to the inadequacy of available resource required for the set up. After the initial set up, the cooperative grew and brought within its fold agricultural workers, farmers, especially women and younger children from their families looking to supplement household incomes, and provide financial independence, individually and collectively. The functioning of the cooperative sustained itself through loans and contributions from its members.
After years of stagnancy, the cooperative started encountering successes, the year 2011 onwards. Women and men alike have joined the cooperative and work gracefully on the loom, producing handwoven textiles. The cooperative members now have also been specialising as embroiderers and tailors, who design the textiles using needle and yarn and produce ready-to-wear clothes, respectively. Aha Vastra has managed to bring out the rich culture of Rajasthan in a region which has had no significant history of artisan involved in major production. The members of the cooperative society, on account of being members of the sangathan manifest democratic values in their work, which is the hallmark of a successful cooperative. A cooperative cannot prioritise the interests of a member at the expense of the others and thus has to strike a balance between conflicting interests. The Adarsh Hathkharga Cooperative Society is a beautiful representation of all such values. The members of the cooperative feel a sense of pride in learning new skill sets and working in a respectful and dignified work environment. With the opening of a retail store at Aklera, the customer base has expanded into markets at public junctions.
There are also attempts to obtain an export license, which will allow them to make international inroads. The cooperative example offers critiques to existing business models which function mostly as profit making bodies with little or no concern for their weavers. Although the Adarsh Hathkharga society is registered as a 'for-profit' organisation, they stand by their motto, "Profit to the artisans". After understanding the main problems affecting the weavers and artisans of Rajasthan, namely inflow of cheaper machine-made goods which has been threatening the traditional industries, the cooperative aims to connect the weavers and artisans of Rajasthan to wider audiences and people who would support and help expand their customer base – through breaking demand-supply chain operated by a nexus of middle-men. An online forum/ website is being planned to provide more avenues to artisans and weavers to directly market their produce to the customers. We urge any and all help from all supporters, friends and concerned individualsMany farmers are eager to join the cooperative but lack the necessary funds required for the training and requisition of looms. It takes approximately six months for a weaver to learn to work efficiently on the loom. Besides these requirements, they are also looking for people who can provide guidance and strategies for the cooperatives to follow. There is a lot of scope for the cooperative to grow, nationally and abroad – and your generous donations, networks and association will help Aha Vastra become a household name, hopefully in the years to come.