A. K. Pany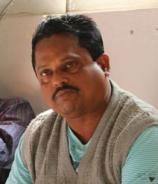 Inspired by the democratic socialism of the Sarvodaya movement, Akshay Kumar Pany began his involvement in grassroots social work in 1992. 'Anchalik Vikas Parishad' was formed along with a group of volunteers to work towards fundamental Sarvodaya principles of social reconstruction in rural areas, emphasizing voluntary land redistribution, communal land ownership, small-scale production and self-sufficient, self-governing village communities.
Pany became a SRUTI Fellow in 1995. Beginning with issues of community health, conservation and agriculture, the organisation soon found itself tackling pressing problems of large scale illegal tree felling by timber mafia in the forests of Dhenkanal. After a prolonged but successful struggle, they felt the need to build a unified collective, across adivasi communities in the area, to guard against such situations. The need was to form an effective pressure group to realize vital provisions for livelihood and governance. This led to the creation of Adivasi Kranti Sangathan (AKS) in 1996.
AKS has promoted the innovative Community Learning Movement (CLM), a grassroots learning process designed by National Centre for Advocacy Studies (NCAS), where local communities actively participate in the political process through Panchayati Raj Institutions to seek accountability and transparency in governance. Pany has played a leading role in building alliances with a number of state-level groups & individuals for preparation and enactment of the Panchayats (Extension to Scheduled Areas) Act, 1996 Rules in Odisha. He is a key member of the Odisha Khadya Adhikar Abhiyan that has been demanding a universal and comprehensive public distribution system since 2009. The sangathan has also taken a proactive role in promoting, preserving and reviving tribal culture and language.