Khemraj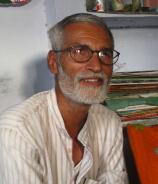 Khemraj is a veteran social and political activist based in Bhadesar in south east Rajasthan. He has led ground-breaking struggles against caste based discrimination and land alienation, working towards  the empowerment of tribal communities, and the liberation of the poorfrom bonded labour.
Born in an extremely poor household in Badi village, district Chittorgarh, Khemraj's mother sent him to work as a bonded labourer for that was the only way that he could get to go to school. The lone member of his family to be educated, Khemraj was exposed to the thoughts and writings of Karl Marx at an early age. In 1981 he moved to Jhabua, Madhya Pradesh, and spent the next 8 years mobilising people to fight for minimum wages and resist the many atrocities they faced at the hands of local officials. Towards the end of the 1980s, poor health and family responsibilities prompted him to return to his hometown where he was associated with the organisation Prayas.
Khemraj continued working with oppressed groups and in 1989, initiated the first of many successful efforts securing the release of over 250 bonded labourers in the stone quarries of the region. This triggered the formation of the Khetihar Khan Mazdoor Sangathan — the coming together of peasants, mine workers, labourers and more recently, brick kiln labour. The sangathan, under the leadership of Khemraj and a strong core group of workers has been active in several villages in Chittorgarh district, empowering communities that have been exploited for centuries to fight for dignity, equality and justice.