Puran Chand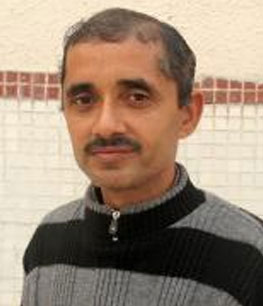 Puran Chand began his public life by playing an active part in student politics during his first year of college in Nahan. Forced to drop-out due to financial constraints, Puran Chand worked in a dairy farm for 10 years to support his family. He fought for farmer's rights raising demands for better minimum support price, supply of seeds and fertilizers and compensation for crops.
In 2008, he was able to dedicate himself once again to grassroots social action taking up pressing issues of displacement, mining, exploitation of natural resources, poor governance and lack of opportunities for unemployed youth of the region. Puran Chand led the formation of an interim sangathan, RenukaJi Baandh Jan Sangharsh Samiti, to oppose the construction of a dam on Renuka river, which did not ensure proper rehabilitation and fair compensation for those who were adversely affected. The project was stalled due to people's resistance, but dams continue to be commissioned across the state without a comprehensive understanding of their combined impact on the ecologically sensitive Himalayan region.
Puran Chand spent three years in several parts of Himachal Pradesh and Uttarakhand to understand the region as an active member of Himalaya Niti Abhiyan, a state-level network of grassroot organisations. His key focus currently is to mobilize people to exercise their access to, and control over natural resources as provided for under various laws. Puran Chand became a SRUTI Fellow in 2014.