Santosh Marandi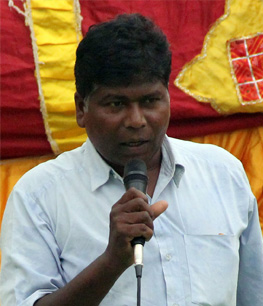 Santosh Marandi
Adivasi Mazdoor Kisan Mukti Vahini
Work area : About 60 villages in 3 blocks (Banka, Chaandan and Katoria blocks) of Banka district, Bihar
Santosh bhai completed his graduation from Sidhu-Kanhu Murmu university in Jharkhand. He comes from the Santhal community and has been working since 2013 to address the marginalization and rights of Adivasi communities in Banka district of Bihar.
Adivasis in the region, mostly Santhals, Ho, Munda also occupy the nearby districts of Jharkhand, and are also a strong political force in Jharkhand. In Bihar, the status of adivasis is completely different. A small minority spread out across pockets, forest dwelling communities in the 3 blocks in the district – Banka, Katoria and Baunsi have little negotiating space with the administration, especially with a long history of oppression from the revenue and forest departments of the state government. Administrative lethargy coupled with systemic exclusions have kept the Santhals and other tribal groups dependent on the wishes of the administration. Babu-dom is widespread. Indicators on public health, education, employment and livelihood reflect a poor picture of the area.
Santosh Marandi, and a small group of volunteers have been associated with Janmukti Sangharsh Vahini and they have been going to meetings in Champaran, Gaya or Patna to involve with the state-level campaign on Forest Rights Act. This brought them into the fold of working towards their alienation of land, and the extractions made by the forest department over the years. He has close bonds with community members and helps them get access to social security schemes, health and education.