Shashi Bhushan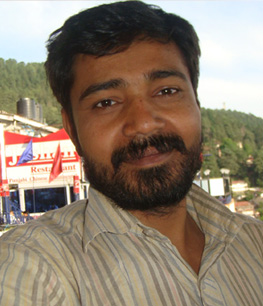 Shashi Bhushan has been involved in aspects of socio-political processes since he was 12 years old. From Bhojpur in Bihar, Shashi was associated with All India Students Association (AISA) and Indian People's Front (IPF), Bihar, in his teenage days. He led a student movement on the issue of fee hike in Bihar schools in 1991.
He moved to Delhi in 1994 and was associated with Sajha Manch and Chintan before starting out independently on his work of mobilizing ragpickers, in 2003, to form a union for their social security and rights. The politics and economics of garbage disposal in urban India and the socio-economic condition of the millions of poor people involved in this daily process is the main arena of Shashi Bhushan's work in AIKMM.
All India Kabadi Mazdoor Mahasangh, spearheaded by Shashi, has almost 16,000 members in Delhi and NCR (Sonepat, Faridabad, Ghaziabad, Noida, Gurgaon). He endeavours to have ragpickers and waste-collectors acknowledged and recognized as enabled individuals in the Indian waste management system as opposed to them being seen as outcasts of society, at the mercy of contractors and middlemen. His long term vision is to bring dignity and protection to the ragpicker's and waste-collector's profession. Shashi is currently leading a struggle against a waste-to-energy incinerator that is being set up at the Ghazipur landfill.
AIKMM is also a part of Alliance for Indian Waste Pickers (AIW), a network of organisations working for the informal waste sector in Delhi.