Sunanda B.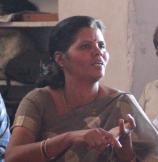 Sunanda began her work with Rural Education Society in Chittoor district of Rayalaseema region. Over 11 years of working with marginalised dalit, yanadi adivasi and backward communities gave her an in-depth understanding of the state's feudal land relations. Majority land ownership was controlled by landlords; agricultural labour being the primary livelihood of landless dalits and adivasis, often in abysmal working conditions. Caste atrocities were also rife.
Sunanda worked to build village-level agricultural labour unions as an effective way to approach people and motivate them to resist the everyday subjugation they had to face. Chittoor Jilla Vyavsay Kulil Union was formed in 1999, gradually building village and mandal level 'sanghas' that addressed core issues of social justice, exploitation, resource control and livelihood. Sunanda became a SRUTI Fellow in 2003.
Over the years the sangathan has raised awareness of land and forest rights, realising pattas* for many. The sangathan also helped empower women through SHGs, leading to their greater participation and taking on leadership roles in the movement. Issues of human rights violations, child labour and education continue to be taken up by the sangathan. With a comprehensive strategy for better justice, governance and opportunity; government resources and welfare schemes are tapped effectively for member communities. The state-level mandal union federation, now active in 250 villages, has grown to become a major source of strength for dalit and adivasi communities in the area.
*- Legal document issued by the Government in the name of the actual owner of a particular plot of land.