V. Ramalingaswami (1921-2001)1>
V. Ramalingaswami (1921-2001)
Former Director General, Indian Council of Medical Research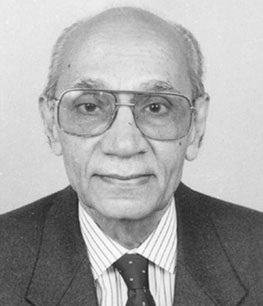 One of India's most eminent scientists and internationally renowned pathologist and nutrition scientist, Prof V. Ramalingaswami became the second Director of the All India Institute of Medical Sciences, New Delhi, at a very young age. He later became Director General of the Indian Council of Medical Research (ICMR) where he took public health to the community by convincing the government that the problem of goitre could simply be addressed through fortification of common salt with iodine.
His deep interest in community oriented research is also reflected in his studies on the Bihar famine and the victims of the Bhopal gas disaster. He was the initiator of research on HIV in India. He had recognised early on that HIV would have a devastating impact in the country and across the world. Prof Ramalingaswami received much acclaim for his work and vision, in India and abroad.
A Padmashri and Padmabhushan awardee, he was the recipient of many honorary degrees and accolades. He was invited by the World Health Organization to chair its global advisory committee on medical research and was adviser to UNICEF, Population Council and Canadian International Aid Agency. He was also Professor at the Harvard School of Public Health and Visiting Professor at several leading universities across the world. His help was sought by the Government of India on almost all health issues.