Alok Shukla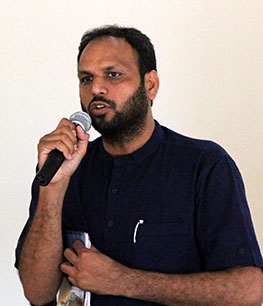 A science graduate from Chhattisgarh, Alok completed his higher studies after which he joined Nadi Ghati Morcha (NGM). Following 5 years with NGM, he began work to counter the skewed industrialization policy (specifically the mushrooming of sponge iron plants in the area) and privatization of water. From 2004-08 he was involved with the struggle against the privatization of the Shivnath river.
Janabhivyakti is working in villages of Sarguja and Korba which were categorized as 'No Go' areas by MoEF for any developmental activity in order to protect thick forests and their rich biodiversity. The sangathan emphasizes on proper implementation of FRA especially community entitlement claims and adherence to PESA norms in governance processes. Current efforts are concentrated on the issue of proposed and upcoming coal mines in the area. Janabhivyakti is also raising issues of diversion of water to industries and concentration of thermal power projects in highly irrigated Janjgir-Champa district.
Alok is the Convener and core working group member of the Chhattisgarh Bachao Andolan (CBA) network that was formed in 2009. CBA is a broad democratic alliance of 22 groups (including people's organisations, trade unions, and other independent people's movements) that focuses on people's issues in Chhattisgarh. As Convener, Alok coordinates advocacy, legal and solidarity assistance to member organizations and the issues supported by them. He is currently based in Raipur and has been a SRUTI Fellow since 2011.