Arvind Anjum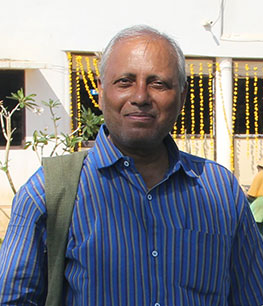 Arvind Anjum has been struggling for the rights of tribal and other dispossessed communities in the rapidly industrializing, mineral-rich state of Jharkhand for nearly 3 decades. Inspired by the JP Movement, Arvind Anjum joined Chhatra Sangharsh Yuva Vahini in 1976, while still in school. Here, he gained exposure and political understanding of grassroots issues. He has been an active member of the Suvarnrekha Dam struggle since 1986, bringing together people from over 250 villages displaced by the dam construction at Chandil. Arvind Anjum became a SRUTI fellow in April 1999.
In 1987, Anjum formed Visthapit Mukti Vahini along with like-minded friends and villagers from the dam affected areas.  The sangathan consistently maintained strong demands for the displaced, and have been successful in realising an effective and inclusive rehabilitation and resource utilisation policy.
Anjum became a SRUTI Fellow in 1999. While the work has primarily been to unite people displaced by dams to access fair compensation, Anjum and the sangathan have managed to dovetail the issue-centric work to address other crucial concerns such as sustainable natural resource utilization, livelihood and education. Visthapit Mukti Vahini has integrated government mechanisms to initiate a highly successful livelihood cooperative within the displaced community. This has been recognized by the Planning Commission as a leading model for dam-displaced communities in 2013, setting standards for inclusive community ownership and management of resources. A key contribution has been the lowering of dam height saving 52 villages from submergence in 2010. The group is also actively involved in forest conservation and eradicating caste and communal discrimination.