Dashrath Jadhav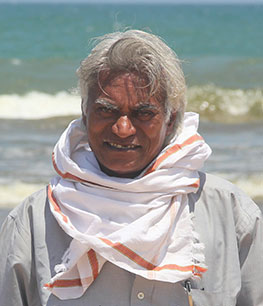 Dashrath Jadhav is a social activist who has been working in Latur district of Maharashtra for over two decades, leading the movement against caste based atrocities and making significant contributions to dalit rights and regularization of gairan (grazing) land.
Born in an extremely poor Maang family, Dashrath became acutely aware of the prevalent untouchability and social discrimination at an early age. His passion to educate himself made him the first graduate of the dalit community in the area. Inspired by Ambedkar and Jyotiba Phule, a deeply felt need to end injustice continued to guide him, be it in his involvement with the group, Dalit Panther during his college days, or later his decision to undertake an MSW at Nirmala Niketan in Bombay. It was his work with bonded labour under Vivek Pandit in Vasai, Thane that gave him a strong grounding and prepared him for a life of working with people and mobilizing them towards collective action.
In 1990, he returned to Latur district and was actively involved in the Campaign for Human Rights (CHR), a Marathwada-wide group that battled against caste-based atrocities and injustice. From this evolved the Shramjivi Sangathana Marathawada Vibhag, a trade union that took the work of CHR forward. Dashrath became a SRUTI Fellow in 1997. In recent years, having achieved the  first step of mitigating caste based exploitation  and atrocities in the area to a large extent, Dashrath and the other committed members of the sangathan have been working with people in 200 villages across four blocks on issues related to gairan land, PDS, MGNREGA, delivery of governance, education and health.