Devendra and Sudhi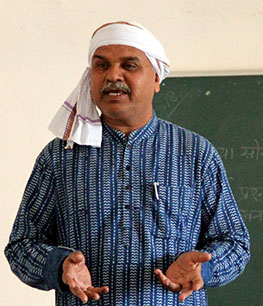 Devendra has been living and working in a small village called Jhiri in south east Rajasthan since 1988. He has worked intensively with the people of the region on various issues including rights of farmers and labourers, education, livelihood generation and perspective building amongst youth.
The eldest son of a local middle class family, Devendra went to school in Kota and went on to study mechanical engineering in Jodhpur. He became part of the organization, Prayas, and after a few years decided to move to his ancestral home in Jhiri following a strong urge to work amongst people in rural areas. Sustaining himself through farming, writing essays and poetry, and doing translations, he lived amongst the rural people, getting to know them, talking to them and understanding their problems. Gradually, a small discussion group started around him, and in 1992, evolved into a sangathan by the name of Hum Kisan, now active in over 50 villages in the Manohar Thana block.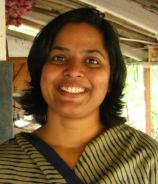 Sudhi, fresh from an Udaipur University MSW degree, came to Hum Kisan in 1996 as a part of her first placement. Social work was not new to her as her mother had been the Director of Shramik Vidyapeeth (an institution for adult education) in Ajmer. She and Devendra got married in 1997 and have since been working together, starting a community school, Manthan in 2001 and a Handloom Cooperative, Adarsh Hathkargha Sahkari Samiti in 2004. They have been SRUTI Fellows since 1998. Each of the initiatives that Devendra and Sudhi have undertaken is a response to an important need of the local people beset by poverty, exploitation, illiteracy and superstitions. With every effort their aim has been to create a more aware, equitable and progressive society.