Dr. Sheikh Ghulam Rasool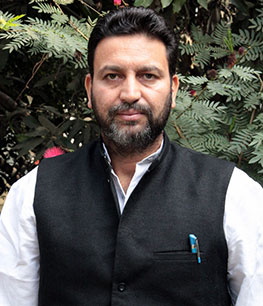 (School for Rural Development and Environment)
Working Areas- Budgham, Bandipora, Baramulla, Kupwara Districts, J&K
Dr. Shaikh Ghulam Rasool, an RTI activist-the founder of the Jammu and Kashmir RTI Movement. Dr. Shaikh with a team of only 12 members started the movement back in 2006. Rasool has explained the law bit by bit to his team and made them understand how RTI can be an effective tool for making the governance structure accountable. Dr. Sheikh is at present Chairperson, J&K RTI Movement and Co-Convenor, National Campaign for People's Right to Information (NCRPI).
In 2008 while working as a medical professional, Dr. Shaikh got his posting in Tosa Maidan. Tosa Maidan was given on lease as firing range for the past 62 years for Army & Air Force. 63 people had been killed till that time due to the shelling of Indian armed forces in the area. Dr. Sheikh successfully ran a movement to liberate Tosa Maidan from the illegal occupation of 6400 Kanals (800 Acres) of land from Indian armed forces. Dr. Shaikh with his comrades achieved this feat in 2014, since than they are constantly working in the region to develop eco-friendly rural tourism as well as art & craft program to create alternative livelihood for the people of the region.
Dr Sheikh also runs School for Rural Development and Environment (SRDE) for environment protection. With the support of some local philanthropists, he is motivating people to plant trees and volunteers to reforest the whole area, who were previously involved in criminal activities such as smuggling. Now they are trying to create awareness and planting trees in Kashmir valley's Pir Panjal forests to recover the loss of the green cover.