Gopal Lodhiyal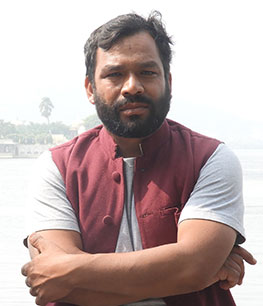 Sangathan – Uttarakhand Van Adhikar Manch
Work area : about 200 Forest Villages [including 10 Got-Khatte (grazing lands) in Tarai bhabhar] and 10 van panchayats [in Ramgarh and Dhari block] of Nainital district, Uttarakhand.
Gopal belongs to Nainital district in Uttarakhand. At a young age of 19, he became involved with the working of civil society groups in the region. Over a period of 6 years, he worked with 3 groups which initially shaped his understanding of issues people face, of the various aspects of the natural resources he grew up around, and later on of the impacts of policies and laws on people belonging to marginalized communities. He worked with Central Himalayan Rural Action Group (CHIRAG), an organization working in the Kumaon region for 3 years and moved on to work with Aurbindo Ashram in Ramgarh region (Nainital district) where he realized that it is essential to see the end of discrimination for seeing any positive change in the society. He also worked briefly with SADEO in his home district where he got involved with research on education, van panchayats and the social-economic conditions of dalits and van gujjars. Here he also got opportunities to participated in national-level seminars and symposiums where he got the opportunity to understand the nature of social movements across the country. He closely worked on traditional habitats and lives and culture of pastoral communities. The atrocities forest-dwelling communities face by actions of the forest department, negative changes made in laws governing forests and the post-colonial conditions in the hill states made a huge impact on him.
Since 2006, he has been working as a core member of the Uttarakhand Van Adhikar Manch, a state-level network taking forward the issues faced by forest-dwelling communities. A specific focus of his work has been involving with community members, mobilising them to take on leadership, involve in advocacy the state and national level. Over a period of 11 years now, he has developed close relationships with community members, and have taken forward the baton of progressive social change. His formal education has been till class 12th, but is considerably well-informed of the works of social reformers and political activists. He motivates sangathan members to read and write, get involved with the processes of work and develop wider outlooks on inherent societal discriminations on caste, gender and religion.