Jang Sai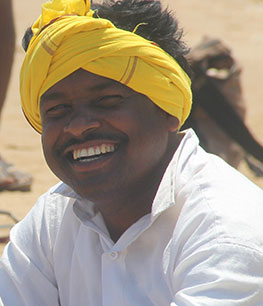 At 29 years of age, Jang Sai is SRUTI's youngest Fellow. Starting his activist life very early, Jang Sai became a member of Bharat Jan Andolan in Andhra Pradesh & Chhattisgarh at the age of 13. In 2001, Jang Sai led a 3-year long struggle for proper rehabilitation of those displaced by Madamsilli, Dudhwa and Sondur dams in Dhamtari district. The success of the struggle saw him emerge as a young and committed gond adivasi leader in the area.
He was also a part of the movement demanding forest rights for adivasis living in the Badalkhol Wildlife Sanctuary area. He is currently working towards strengthening self-governance, especially of natural resources, through the implementation of participatory democracy processes and Panchayati Raj Insititution mechanisms in Schedule V Areas. Jang Sai's own village, Parsagudi, is widely considered as an ideal example of Gram Sabha functioning in Surguja.
A SRUTI Fellow since 2011, Jang Sai is working on equipping the community to effectively access justice and opportunity through peaceful, democratic processes.  The recent segregation of Surguja into two more districts – Surajpur and Balrampur adds further logistical challenges of having to cover greater distances and a wider spread administrative system. Jang Sai is consolidating efforts to enable people to build Panchayati Raj Institutions and related processes despite this division of districts.