Jayashree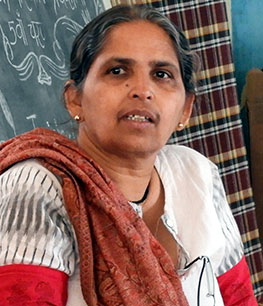 Jayashree, a Science graduate from Pune, was an active member of the landmark Narmada Bachao Andolan. She is a SRUTI fellow since 1998. During her days in Narmada Bachao Andolan she met her partner Amit from Khedut Mazdoor Chetna Sangathan (KMCS) which was also a member of Narmada Bachao Andolan, in Jhabua Madhya Pradesh. It was here, more than 2 decades ago when Jayashree and Amit debated the possibilities of seeking long-term solutions to the alienation that adivasis were increasingly being faced with in the modern world.
They felt that mainstream education excluded adivasis and other subaltern cultures physically from its curriculum and was one of the key systemic tools for the physical and mental subjugation of marginalized communities. Inspired by noted educationist Paulo Freire, Jayashree and Amit set up Adharshila in Sendhwa in 1998 where the pedagogy would be firmly anchored in the relevant culture, history, livelihood and language of the local people. The SRUTI Fellowship was extended to Amit and Jayashree in the same year.
Most of the students in Adharshila are children of farmers and members of various people's movements from the area. Organic farming, local crop diversity, arts and culture, adivasi history and theatre form a major part of the curriculum along with foundational academic subjects. Many of the students who studied here are now studying in college and continue to be associated with Adharshila and social issues in different ways, some even moving on to starting similar schools in other districts. The Natak India Company is a theatre group formed by the children, for the children of the school. They have performed and been in acclaimed in different states.