Kailash Bharati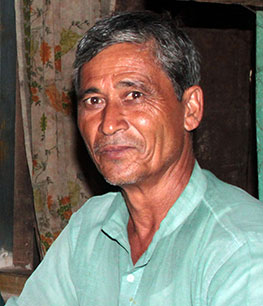 Kailash Bharti was part of the historic, peaceful Bodh Gaya movement in the 1970s, against the illegal occupation of 9,700 acres of agricultural land by Bihar's feudal Sankaracharya Math in Bodhgaya. Marginalized communities were made to work as bonded labour on this land perpetuating the cycle of impoverishment, dispossession and exploitation. Most members of the sangathan used to work on the same land for which they joined the struggle.
In 1987, the Supreme Court ruled in favour of possession of the land by 10,000 families, most of them from the highly marginalized musahar community. This marked a decisive and inspirational victory for land reform in Bihar where pattas were given to women for first time in land reforms history. Despite being uneducated, Kailash's exposure to the land movement and other leaders of land rights gave him a deep understanding of the root cause of inequality.
Kailash became a SRUTI Fellow in 2001. Over the years, the sangathan has worked to gain access to community land and adopted lift irrigation and pyne desilting to bring water to the land. The legal process of redistribution is underway, with 24 new villages being created and recognized so far. The latest of these is Azadgram. The sangathan has taken up issues of forest rights along with effective implementation of government schemes in these villages.