Prafulla Kumar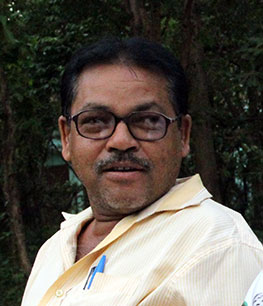 Prafulla is from Puri district in Odisha, he became SRUTI fellow in 2003. Starting his community work with an organisation called Sancharr in 1995, his quest for a more meaningful relationship with people led him to grassroots involvement through the formation of the Mati Maa Mahila Morcha (MMMM). It was here that he, worked with the adivasi population in Nayagarh focusing on community forest rights and conservation; livelihood alternatives through non-timber forest produce (NTFP like tendu patta, mahua) and the implementation of government schemes.
He especially worked for the rights of traditional forest dwellers to be recognized in Baisipalli which was designated as a wildlife sanctuary in 1981. The sangathan has helped curb harassment of these villagers and enabled cultivation and NTFP collection which is integral to adivasi socio-cultural life and their symbiotic relationship with forests. This paved the way for implementation of much needed government schemes for social security of the local communities.
Prafulla went on to expand the sangathan's work in Gania block under Adim Adivasi Mukti Manch (AAMM). He has taken up issues of strengthening in-situ livelihood and conservation of traditional herbal knowledge. To preserve knowledge resource and strengthen community conservation efforts, herbal practitioners or gaon-baidyas have been identified by AAMM to collect and conserve traditional knowledge of medicinal herbs and other valuable forest resources. MMMM has initiated organic farming cooperatives run by women to sell a range of pulses, spices and jams helping provide crucial economic security to families. Sangathan has led numerous training programs to disseminate information on harnessing livelihood security through NTFP.