Rajim Ketwas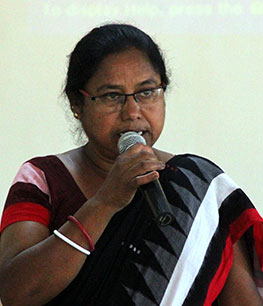 Rajim started grassroots work in 1987, at the age of 19, with Ekta Parishad in Dantewada. She subsequently joined the workers' rights movement in Bhilai under the leadership of Shankar Guha Niyogi, founder of Chhattisgarh Mukti Morcha (CMM). She was an active member of the CMM movement which demanded a separate regional identity for the predominantly adivasi areas of Central India, and for upliftment of workers and peasants.
After the split of the movement following the tragic death of Shankar Guha Niyogi, financial constraints and a series of personal challenges led Rajim to opt out of grassroots work in favour of economic stability in her home district of Mahasamund. It was here that Rajim was exposed to the difficulties faced by the dalit community in Chhattisgarh.
In 2007, Rajim founded the Dalit Adivasi Manch with the primary objective of working on natural resource rights of dalit and adivasi communities. The sangathan sees considerable participation of women, and takes up issues of trafficking, sexual violence, domestic labour wages, health and employment. Youth leadership amongst the community has also gradually emerged, with the sangathan forming 'Rashtriya Grameen Rozgar Union' with the participation of educated boys and girls to help ensure proper delivery of the MGNREGA scheme.