Rekha and Basanti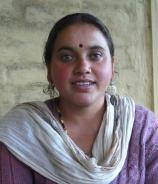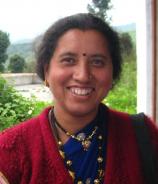 Rekha and Basanti are core members of Maati, a women's collective co-founded by Malika Virdi in Munsiari, Uttarakhand. Maati has been steadily working towards life security and livelihood generation for women, and plays a significant and catalytic role in areas of women's empowerment, environmentally sustainable development, food sovereignty and diversity and enhanced community participation in the management of common property resources.
In 1994, a couple of incidents in which women were killed by their drunk husbands led Basanti (then a young girl studying in class 9) and a few others to undertake a protest in which hundreds of women participated from distant villages. Years later, in 2000, the small informal group of women decided to name their collective Maati as, an acknowledgement of their deep connection to the earth. Rekha had been associated with Maati since her student days. Along with her responsibilities as a farmer and a mother of four children, she has taken on a leadership role in the sangathan, both in the daily activities as well as the larger campaigns. They became Fellows of SRUTI in 2006.
Van Panchayats or Forest commons are critical for mountain communities of Uttarakhand for their subsistence use. In 2004, members of Maati took the initiative and actively built up the Home Stay enterprise started by the Sarmoli-Jainti Van Panchayat. Introduced as a non-extractive livelihood option that would serve as an incentive in the conservation of the forest commons, women who had a room to spare in their houses started hosting tourists. This initiative greatly enhanced the family's earnings while promoting eco-tourism. The sangathan's work also includes building on the traditional skills of women in knitting and weaving, seed conservation, landmark improvements in the functioning of the Van Panchayat (forest council), and tireless resistance against the destruction of local livelihoods, social structures and ecology being perpetrated in the name of development. Maati played an active role in the relief and rehabilitation efforts in the 2013 Uttarakhand disaster.