Sadre Alam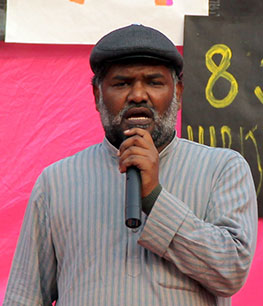 Originally from Bihar, Sadre Alam, 37, took an active part in urban social work from his days in Jawaharlal Nehru University. Associated with Student's Federation of India (SFI), he was Founder-Convener of the Dastak Cultural Group where he immersed himself in theatre and art.
Sadre went on to work in Bihar to help with flood relief efforts. He was actively involved in the rehabilitation process of families relocated from 50 slums near JNU to Pappankalan in South-West Delhi. Following this, Sadre decided to focus on core urban rights – matters of housing, minimum wages, social security and basic facilities across slums and resettlement colonies in the city. He recognized youth knowledge-building to be a long-term solution to curb disillusionment and lumpenisation among young people and saw it as an opportunity to creatively channel the energies of unemployed and disadvantaged youth living in these areas.
It was here that Sadre used his theatre experience as a vital tool to connect with youngsters along with other forms of cultural expression. He has led several street theatre interventions on issues that concern them with a focus on gender equations and unorganised labour under the banner of Delhi Young Artists Forum – a membership-based cultural network. To consolidate all these efforts, People's Foundation was founded in 2009 with one chapter each in Delhi (Centre for Community Support and Social Development) and Bihar, and one joint cultural forum called People's Canvas. Sadre became a SRUTI Fellow in 2013.