Selvaraj M S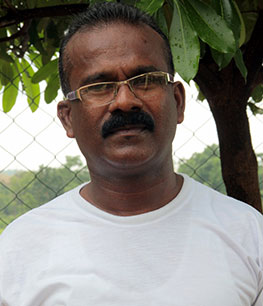 Selvaraj has been leading a vibrant people's movement in the ethnically fragmented Nilgiri Hills since 1991, bringing together a wide range of groups including adivasis, dalits, Sri Lankan repatriates, tea estate and agricultural labour, and muslims. Having been a part of labour unions from an early age, Selvaraj took up the grievances of tea estate labourers who were severely affected by skewed international trade policies adopted by the country in the 90s. Selvaraj became a SRUTI fellow in January 1998.
He began organising the workers to demand better wages, social security, subsidies and housing. Selvaraj went on to challenge the forest mafia's exploitation of resources which threatened the symbiotic relationship between the forest, traditional forest dwelling communities and wildlife. Illegal eviction of forest dwellers and frequent atrocities by the Forest Department were commonplace as well. This gradually led to the creation of a movement to claim long ignored rights of access and ownership of forest dwellers who neither lived in Scheduled Areas nor were classified as Schedule Tribes. The movement converged into an alliance of people in 1996 as   Vivasayigal Thozhilalargal Munnetra Sangam (VTMS). It envisioned itself as a working class alliance to assert the rights of the hill people and their constructive role in conservation and biodiversity. Selvaraj became a SRUTI Fellow in 1998.
VMTS went on to become a key member of the national platform, Campaign for Survival and Dignity (CSD), that played a leading role in establishing the historic Scheduled Tribes and Other Traditional Forest Dwellers (Recognition of Forest Rights) Act, 2006. The sangathan continues to take up important issues of democratic management and conservation of natural resources in the ecologically sensitive Nilgiris area.