Trilochan Punji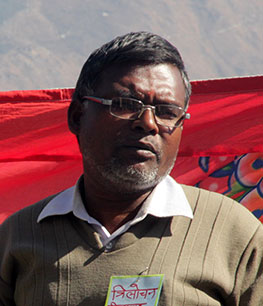 Trilochan Punji, 44, began his engagement with grassroots work at the young age of 11 as part of the mass movement to protect the Gandhamardhan mountain range, one of India's most bio-diverse areas. Punji has led powerful movements concerning the survival of tribal communities in a region that has witnessed violent conflicts over resource control and subsequent alienation of traditionally resource-dependent local communities.
Movements such as Chasi Mulia Sangathan, Shramik Sewa Sangha and Lower Sukhtel Anchal Budi Sangram Parishad successfully claimed peasant, labour, tribal and dalit rights over natural resources and wage entitlements. This has established Punji as a focused and powerful grassroots worker. A practicing advocate, Punji organizes legal trainings; provides legal assistance to local communities and represents their issues at state and national level platforms. He was one of the founder members of the Gadhamardan Surakshya Action Committee and worked as its convener for 3 years.
Zindabad Sangathan was formed in 2000 and is now active in 269 villages of Balangir District with a vision of building a mass organization of vulnerable communities to enable their political assertion. Working in collaboration with state and national-level solidarity networks such as Lok Shakti Abhiyan, Campaign for Survival and Dignity and other like-minded groups and individuals; Punji is committed to the collective assertion of communities to access a just and equitable space in society. He became a SRUTI Fellow in 2013.