Ulka Mahajan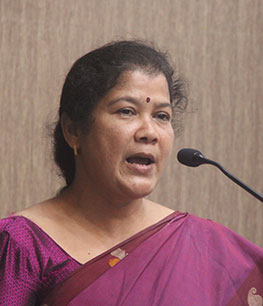 After a degree in social work from University of Mumbai, Ulka Mahajan began working in the villages of Raigad district in 1989. She spent time with the predominant katkari adivasis, a landless migratory primitive tribe, who had been systematically exploited over the decades and reduced to a state of penury and debt-bondage. Theirs was a community that had lost everything, a community that was sarvahara. Ulka Mahajan became a SRUT fellow in October 1991.
Realizing the urgency of working towards improving this situation, Sarvahara Jan Andolan was formed in 1990 with the aim of organizing katkaris of the region and creating a much needed political identity for their assertion. Mahajan became a SRUTI Fellow in 1991. The sangathan began its work by taking on powerful landlords and contractors who were perpetuating the practice of bonded labour. Workers freed as a result of SJA's efforts went on to join the movement. The sangathan's demand for dali* land ownership for katkaris was fought at the national level, achieving unprecedented success and recognition of the katkari community. This was followed by historic movements against arbitrary acquisition of Raigad's fertile land, sought after by industrial giants and real estate agents.
SJA spearheaded the first ever successful people's referendum that resulted in de-notification of the 10,000 hectare Maha Mumbai Special Economic Zone (MSEZ). Growing from strength to strength, Sarvahara Jan Andolan now enjoys a robust network of solidarity support across the state, and continues to take up longstanding issues of natural resource rights, food security, labour rights and effective delivery of governance.
*- Cultivated forest land on Konkan hill slopes. Despite cultivating this land since the time of the British and significantly contributing to forest conservation, katkari adivasis have no proprietary rights.