Vilas Bhongade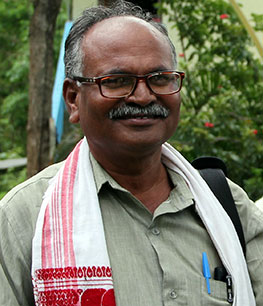 Vilas Bhongade has been a key figure in the Vidharba region working among dalits and adivasis on issues of natural resource rights, displacement and livelihood. Beginning his involvement in social movements as a young adult in Nagpur, he has played an active role in grassroots struggles of unorganized labour – construction workers, incense stick makers, domestic workers and agricultural labour – under the banner of Kashtkari Jan Andolan.
In 1990, Bhongade led the first major mass action against denial of proper rehabilitation of those affected by the ambitious Indira Sagar Dam. Initially welcomed by locals of drought-prone Vidarbha who were in desperate need of an irrigation infrastructure, the dam was soon mired in delays and corruption. Gosikhurd Prakalpgrast Sangharsh Samiti was initiated against this injustice in 1996. Bhongade became a SRUTI Fellow in 2003. Under his leadership, the sangathan pioneered innovative forms of peaceful dissent in the region to highlight the corruption and usually ignored aspects of displacement such as deprivation of community resources for cattle rearing, grazing and even space for cremations. The sangathan's efforts yielded a milestone victory in 2013 ensuring appropriate compensation, livelihood and housing for around 1 lakh affected people.
Bhongade has made river preservation and democratic water management a key focus of his work with the community. Access and rights over forest resources for Gond and Mana adivasis has been actively taken up by the sangathan as well. A staunch advocate of BR Ambedkar's teachings, Bhongade is also a National Convener of the National Alliance of People's Movements (NAPM).