Juheb Jhony1>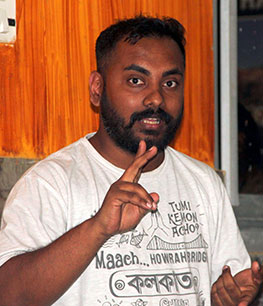 Juheb completed his post-graduation from Madras School of Social Work, Chennai and undertook under-graduate degree at Assam University, Silchar. In both these institutions, he actively participated in student movements and was part of progressive campaigns. During his stay at Chennai, he along with his comrades-built awareness campaigns, both offline and online – with an aim to take up issues concerning students in and around Chennai.
He comes from Silchar, Barak Valley in Southern Assam. Silchar is known for its history of resisting the imposition of the Assamese language over local languages. 11 people were martyred during the language movement in the early 60's. Juheb's childhood had an impact of various struggles like this which helped him in building an empirical understanding of social issues, and moved him deeply .
He was initially involved with SOS Children's Village in Bangalore and joined SRUTI in 2017. Through the fellowship program, he has been actively engaged with both rural and urban communities on the issues of Right to City, Urban Poverty, Youth Perspective Building, Communal Harmony, Education, Land Rights, Labour rights, and Migration. In November 2018, he along with SRUTI fellows of Uttar Pradesh played an active role in forming Bunkar Youth Forum at Tanda, Uttar Pradesh. To understand the miseries of the working class after the first phase of corona induced lockdown, he went to Ayodhya and documented stories of several individuals and families in distress – of their hopes, their struggles and their dreams.
Juheb loves spending time in the kitchen where he experiments with his wok and surprises everyone with delicious new cuisines. He is a sports and movie buff and loves creating memes on social media.
Juheb dreams of a classless world and a casteless India!